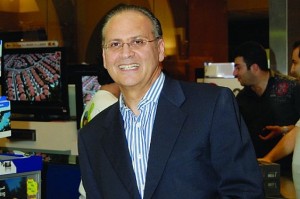 CompuMe Founder and CEO Dikran Tchablakian has announced the launch of LetsTango.com, an e-commerce shopping experience.
Coined LetsTango.com to indicate the harmonious customer-seller experience it offers, the online store aims to offer shoppers a safe, secure, and user-friendly shopping experience. Among the various features designed for shopper convenience, LetsTango.com includes live, instantaneous shopping assistance, 100% genuine products, DED protection, and a variety of convenient payment methods including Cash on Delivery and Credit Card Swipe on Delivery. Additionally, LetsTango.com features next-day free delivery across the Emirates, attentive after-sales service, and a generous 30-day return policy. It also features an innovative e-returns process that allows customers to apply for returns completely online.
"The right blend of innovation, technology and execution is crucial to develop an e-commerce business. I have taken my time to ensure that these three key elements take a top spot in my latest contribution to the regional technology industry," Tchablakian said. "Through LetsTango.com, rather than having consumers come to us, we'll go to them. We want to be where our consumers are."
LetsTango.com offers advanced features designed to make shopping fun, such as a 'gamified' interface that rewards visitors for activities, and allows them to share and review purchases with friends, collect badges, and win awards. Additionally, digital shopping assistants help shoppers find accessories for their gadgets.
"Staying abreast with the growing 'gone-mobile' trend, LetsTango.com will ensure users receive notifications via SMS all the way from registration and the single-page checkout to the delivery of the order. For seasoned shoppers, the website also provides tailored services including pre-ordering items and gift preparation," said Parag Mehta, Operations Manager LetsTango.com.
But the 'shopper convenience' concept does not end online:  LetsTango.com features dedicated service centers in multiple, easy-to-access locations, as well as collection points where shoppers can pick up items, interacting directly with service staff.
"Digital buyers in the MEA region are growing at a CAGR of 49 percent. There are about 50 million digital buyers in the region which will grow to 73 million by 2016," Tchablakian explained. "The website aims to meet this surge in demand with the same standards we have always maintained," Tchablakian said.