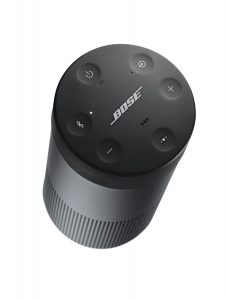 When it comes to audio, Bose is a name you simply cannot miss.
 The trend in Bluetooth speakers these days is all about 360-degree audio, with music sounding the same omnidirectionally.
As the name suggests SoundLink Revolve is able to project quality in every direction, offering a great experience whether it be at an outdoor party or in the family room playing a soothing background music.
The speaker has a compact look and feel, we can see it fitting into any space in your home. Sturdily built, the device has a sleek design and an aluminium casing with rubber ends.
Weighing at 1.5 pounds, the device doesn't feel too heavy, and is portable and compact enough to be carried in a backpack or a large handbag.
The speaker is available in two colours – 'triple black' (black, basically) and 'lux grey' (silver).
Revolve has a circular rubber base and a slightly smaller circular top panel. Along the upper rubberised panel, there are control buttons for power, Bluetooth and volume. But perhaps, the most interesting bit is the multi-function button – the one with three dots. It can be used for play/pause or held down to connect with Siri or Google Assistant – there's a microphone for voice commands. It can also be a speakerphone giving you the option to make hands free calls. The voice quality is quite good and the calls connect seamlessly.
Of course, the most important feature of the speakers is the audio quality. The sound from the Revolve is detailed and bold. For a portable device, the speaker delivers a laudable bass thump that is not compromised even at top volume levels. Subsequently, if the volume is at a more moderate level, you can hear a more robust and fuller bass depth.
The speaker has memory for pairing with eight devices, which can be cycled through without having to go through the Bluetooth pairing procedure each time. You can also sync two Revolves or set them in a multi-room party mode. This is most easily achieved via the Bose Connect app, which is available for Android and iOS devices.
What's more is that the device is IPX4-rated, which means that it can withstand poolside splashes and even a few raindrops, however prolonged water exposure is not advisable.
Bose Soundlink Resolve also has a decent battery life lasting up to more than 12 hours of playback. It has an auto-shutoff feature that turns the speaker off after 30 minutes of inactivity to conserve battery. However, the downside is that it takes at least four hours to fully re-charge.
All in all, Revolve stayed true to the company's history of delivering audio devices that combine quality design and sound. It ticks all the right boxes, and for AED 799 this might just be the right speaker for you.