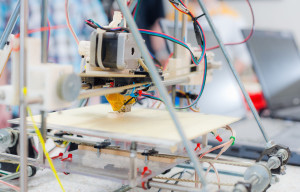 3D printing is catching the attention of the global market. Identifying advantages across sectors, experts believe, it is the next disruptive technology that is bound to transform business models. Reseller ME finds out what this means for the regional channel.
When Johannes Gutenberg introduced the earliest form of printing to the world, way back in 1450, did he ever wonder where the technology would reach today? Probably not. Innovative technologies are constantly introduced to the dynamic IT market, but, every once in a while, a disruptive technology comes along, which transforms the way the industry views the market place. 3D printing is one such technology that has the potential to wipe out industries and create new methods of operations.
Imagine being able to think of an object and then design it with an appropriate software and have it printed immediately with a 3D printer. A tangible solid product that is printed as simply as printing a word file from a computer – this is what Chuck Hall invented close to three decades ago. Today, most 3D objects are printed in materials like PLA or ABS but even materials like metal, chocolate or sugar is an option today.
It may sound like a scene from the future, but according to reports, this technology is all set to go mainstream. The research firm, International Data Corporation (IDC), reported towards the end of last year that in terms of units shipped, 3D printer market will grow at compound annual growth rate of 59 percent and in terms of revenue, it will grow by 29 percent from 2012 to 2017.
However, Ashwin Venkatchari, Senior Program Manager, Imaging Devices and Document Solutions, IDC Middle East and Africa, says that although the potential is definitely there, it will have to be a wait and watch approach when it comes to the Middle East region. "Places like the US and China are driving this growth, in those markets you have a fair level of local consumption happening, but in this part of the world, the market still has not reached that level of maturity."
Either way, this means a huge potential for the channel partners in the region. From previous experiences, we know that early adopters of new technologies are the ones who reap maximum benefits. And with a disruptive technology like 3D printing, which is expected to transform the landscape of the manufacturing industry, channel partners have the potential to grow immensely. From real estate and healthcare to aviation, education and automobiles, the possibilities are endless with 3D printing.
According to Ashish Panjabi, COO, Jacky's Electronics, 3D printing will revolutionise and change supply chains all over the world, when it goes mainstream.
He says, "Depending on what you do, 3D printing has got several advantages. If you are a company that develops prototypes, it could mean that you can design products and have samples ready closer to home in an environment that you can supervise."
Explaining further, he says. "This is why companies such as Apple, Samsung, Microsoft and others use 3D printers when designing new products as they're able to constantly prototype in complete privacy until they've got a product that meets their requirements." In a nut shell, 3D printing allows to test for fit, form and function.
With the technology soon available to the masses and with several retailers in the United States already selling 3D printers, Jacky's Electronics is one of the early players in the region who has identified this trend and has already set up a business unit. "We had the MakerBot range of 3D printers on display at Gitex Shopper and sold several units from the stand. Apart from the printers, there is also an opportunity to earn money on consumables," he says.
But agreeing with Venkatchari from IDC, Panjabi says the awareness level in the region is still relatively low. According to the retailer, to develop the market, vendors, distributors and retailers have to work together to make the products and applications more visible.
According to, Lothar Hohmann, Owner, Precise, a company that produces laser engraved 2D and 3D trophies, corporate gifts and mementos, "the Middle East market is not even an embryo, that's how early we are," he says. He agrees that early adopters in the channel will see the most advantages.
What will drive the mainstream market is growth of the content market. Channel partners must be well versed with the technology and be in a position to advise the customers as to why they should buy. As it is in its nascent stages, customers are not aware of the massive potential of 3D printing and needs a reason to buy it.
Channel partners should also be aware with what is happening in the 3D industry and keep a sharp eye on all the developments in this dynamic market as there is a lot happening, in order to best cater to their customers.
"When we have the distribution for various brands, we will be looking at partnering with channel partners. We need to partner with the right people as we don't have retail shops ourselves, so we need to get the partners to understand this technology as much as we do," he adds.
Representing MakerBot, Stratsys, SolidScape, Concept Laser and Artec, Panjabi says, "Apart from just selling products from these brands, we keep stock in the region, have consumables and spare parts readily available, can install products, provide training and give after sales support."
He adds, "Most manufacturers either have their own distribution centres in the United States, China, Korea, Japan or parts of Europe and the Middle East was largely ignored but we hope to cater to the vacuum that has been created here as a result."
The potential for the channel partners in 3D printing is unchallenged, it is only now a question of which channel partners will take it seriously and make an effort in educating themselves and their customers about this technology. As always, partners cannot go ahead in this space without the support and initiative from vendors in order to spread the awareness about this technology.