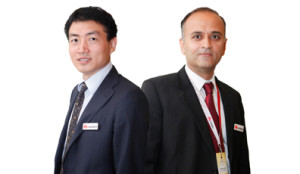 At its recently concluded channel partner summit, Huawei presented various opportunities for partners to join forces with the vendor. Dong Wu, President, Huawei, Enterprise Business, Middle East and Shailendra Sainani, Sales Director, Commercial Business, Huawei, Enterprise, Middle East elaborate further on the company's focused channel strategy.
Huawei, a global ICT solutions provider, is focussing on enabling its partners to grow profitably by supporting them with training and technical knowledge. Potential and existing partners had the opportunity to learn the vendor's channel initiatives planned for the region at its recently concluded Channel Partner Summit.
Dong Wu, President, Huawei, Enterprise Business, Middle East, says that the Middle East is one of the top regions for the company. "It is an important region for our company and our strategy has always been to bring in the latest technology. For example, 12 years ago, we brought in 3G and fibre-to-home technologies in this region."
Also, compared to other regions, the Middle East is set for favourable economic forecast and the government has invested heavily in this growth. ICT is a major driving force for the region's economy, especially with initiatives such as e-governments, m-governments and smart cities, making it a significant market for Huawei. "We see huge opportunities here and is one of the key sectors for our growth," Wu adds.
Growing at a rate of 35 percent every year, the company has recently ventured into the enterprise market within the region and is expecting to see at least 45-50 percent growth rate.  And what the company lacks today in the enterprise market, according to Shailendra Sainani, Sales Director, Commercial Business, Huawei, Enterprise, Middle East, is the association with the channel.
"The channel becomes the most important link for us because they can reach a wider base of end customers and also deliver regular support services. But what becomes important then is to ensure that our partners be our trusted advisors, which means they need to be well-versed with our solutions and products," Sainani explains.
The company is clear on its channel strategy, in order to make their channel partners trusted advisors – to focus and deliver its solutions in the most optimum manner to the market. "We realised that for the channel to join our programme, they will look at three key aspects – how easy is it to join, can they be further enabled and most importantly, can they grow profitably? This is why our partner programme's major focus was to implement these key aspects," he says.
The company has several levels of partners. The first level includes Carrier Reseller Partners, who can sell to carriers such as service operators and the second level consists of Global Partners who have a relationship with partners who serve more than 15 countries. The third level includes the company's value-added partners, which are its tier-1 partners who have a direct relationship with the ICT vendor. The fourth level consists of tier-2 partners who buys from a distributor and within this level, there are three categories – gold, silver and authorised.
"We are currently in the process of recruiting partners for the gold category. This level means there will be a committed relationship from both sides while the authorised level demands least commitment from both parties," he further explains.
Elaborating further on the company's criteria for choosing its partner, he says that it is focused on technology, solutions that the company is penetrating and the end customers it is trying to target. "Therefore, it becomes very easy for us to evaluate, which channel partner has the strength in which area. That is how we are categorising or choosing our channel partner."
The vendor's immediate focus is on its strategy for the market, go-to-market plans and its solutions for the coming months. "Ours is a focused approached on all three areas. We want to align with specific partners, make them preferred, enable and train them, give them the right tools in order to be a trusted advisor for us, that's our channel. From a solutions perspective, we are clear that we will focus on four different areas – BYOD, wireless LAN, Big Data and SDN – these will drive our future growth."
In terms of vertical, Sainani believes hospitality will drive the demand for the company and he adds, education is another area where BYOD will play a big role.
The company has the solutions but having the right partners to support these solutions make all the difference. "We need to think about that. If we don't have a right partner to support a particular solution then we are not going to focus on that," he says.
The company's plans present a huge opportunity for partners in the region and it is without doubt that they are investing heavily here. "It's a great opportunity for channel partners to align with us in the right focus areas. We want our partners to be focused and have clear plans as to where they want to take their business to. Our in-country plans are specific to each market and we are looking at a preferred relationship with our partners," concludes Sainani.