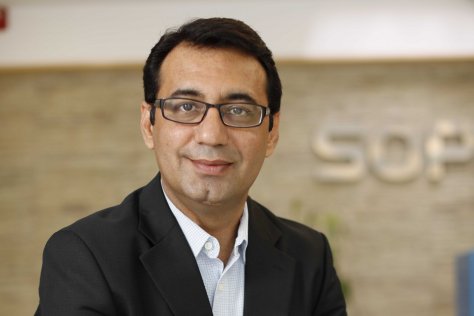 Sophos' vice president for Middle East and Africa region Harish Chib delves into the firm's channel strategy and explains why it is crucial for partners to build compelling managed services offering to be successful in today's cybersecurity landscape.
What makes Sophos stand out against your competitors?
Sophos is at the forefront of a pivotal moment in the evolution of cybersecurity. As a global cybersecurity leader, Sophos is constantly driving change to reshape and innovate the market. One way Sophos is doing this is by harnessing the power of artificial intelligence, through deep learning neural networks, so that its security solutions adapt more quickly to today's fast-changing threat landscape.
Secondly, at the heart of Sophos' strategy, lies the concept of synchronised security, where all of the company's security products actively work together to provide faster, more accurate detection, and greater levels of automation to isolate and stop threats from spreading. At Sophos, we know that the solution to complexity is not more complexity. We tackle security challenges with clarity and confidence, knowing that simple, innovative security is better security.
Could you tell us a bit more about your channel plans and strategies?
Sophos is a 100 percent channel focused cybersecurity company. We are the only cybersecurity company that has 'channel' as part of its mission statement. We put our partners first in everything we do—from sales, marketing and support to product development. Our extensive global partner channel is a key strategic asset for Sophos and remains a key differentiator.
Over the last few years, Sophos has built a structure that provides our partners with the support and resources they need to be successful in the cybersecurity market. We are continually investing in our channel programme and have increased our annual channel marketing spend. The overall internal channel headcount has increased over the last few years and we now have channel dedicated marketing, support and sales engineers. Currently, Sophos has a presence in more than 50 countries across the Middle East and Africa with a team of more than 50 people working hand-in-hand with more than 3,000 transacting channel partners.
How do you see the channel evolving?  What is Sophos' channel strategy for the region?
As cyberattacks today are both constant and changing on a daily basis, businesses of all types and sizes need to be serious about their security. The best way for organisations to stay on top of new cybercriminal behaviours and new security solutions is to rely on their channel partner to recommend the best protection against ongoing sophisticated attacks.
Sophos employs a simple and effective "channel first" sales strategy that allows us to efficiently scale our customer base. In the Middle East, we offer a strong, flexible and generous partner programme with dedicated support, sales tools, training and certification, deal registration protection, and competitive margins – including a programme dedicated to Managed Service Providers (MSP).
Sophos creates products with features designed specifically for partners, such as the Sophos Central-Partner dashboard that allows partners to centrally manage their customer endpoints and firewalls from a single dashboard. Partners also have clear upsell and cross-sell opportunities with their existing customers, due to the broad portfolio of Sophos products that are available within Sophos Central.
Sophos is unwavering in its commitment to be a trusted partner to the channel by providing the best cybersecurity products, support and programmes that actively enable resellers to grow and generate revenue. Our plan is to expand our channel depth across the Middle East and provide next-gen threat protection to businesses of all sizes.
What has been Sophos' big channel push lately?
'Everything as a service' is virtually taking over all areas of technology and technology-driven businesses, and cybersecurity is no different. This shift to 'as a service' is driving a dramatic transformation in the channel, where cybersecurity value-added resellers of all sizes are rapidly transitioning their businesses to become service providers for their customers. This enables them to move up the value chain to become more strategic, and also enhances the predictability of their business model and customer retention. More than two years ago, we introduced a new MSP programme explicitly designed to enable and support our partners to embrace this new selling opportunity, and we believe our product portfolio, integrated cloud management console, and channel priorities are an ideal fit for MSPs.
The rise of next-gen MSPs is redefining the core attributes of a partner. What are the essential skills that partners require in order to drive a successful model?
Building a next-gen MSP business can be a challenge. Gone are the days where on-site visits and set business hours are the norm. Customers are now looking for MSP support 24×7, and part of this is due to the "always on" attacker mentality and our digital culture today. As a result, MSPs must be flexible and well-equipped to manage customer needs from anywhere and at any time.  
Partners must also drive marketing and brand development programmes that educate end-users and generate new business leads. Sophos helps with this by providing marketing support as part of its partner programme. We also offer regular training and certification programmes that allows partners to become trusted advisors to their customers.
Tell us more about the Sophos MSP Connect programme?
Sophos MSP Connect is our dedicated programme for MSPs. The award-winning programme provides MSPs with endpoint, server, firewall, mobile, encryption, web, and email security solutions – all through Sophos. This means MSPs don't have to chase multiple vendors or juggle numerous contracts. 
Since Sophos' full portfolio of products fall under the Sophos Central umbrella, they are fully integrated for enhanced protection, allowing MSPs to offer a higher level of security. MSPs can manage all of these products, their security licenses and customer information from a single pane of glass – all in one view. MSPs don't need to bounce between multiple tools or management resources anymore. They get a single, complete platform to watch for risks and respond to threats. All of this saves MSPs precious time and resources.
Does Sophos have a partner programme? Please share some highlights.
Yes. Sophos has a flexible and generous MEA partner programme with dedicated support, sales tools, training and certification, deal registration protection and competitive margins – including options for MSPs. The Sophos Partner Programme for Middle East and Africa is based on sales performance and consists of four levels – Authorised entry level, Silver level, Gold level and Platinum level.
Each level increases with the partner's commitment to selling Sophos' products.
Our partner programme for the MEA region highlights our mission to be the world's leading 'channel first' and 'channel best' cybersecurity company that creates all-star programmes and incentives for channel enablement and accelerating Sophos partner profitability.
What do you look for in partners?
Partners are our first priority and they are the key to our success. This is also the main focus of our channel sales model. We are fully committed to helping our partners increase their profits and customer loyalty. And, we look for a similar level of commitment from partners at all levels, including a strategy to develop their business with Sophos and a plan to complete training and accreditations at the highest level.