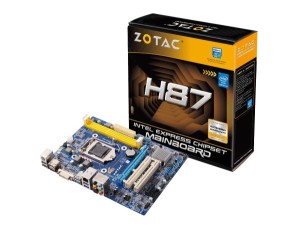 ZOTAC International today announced a new mini-ITX platform for 4th Generation Intel Core processors for small form factor users that demand a compact PC without sacrificing performance or features.
The new ZOTAC H87-ITX WiFi delivers a compact computing experience that rivals and can exceed traditional full-tower PC systems.
"ZOTAC is always on the forefront of mini-ITX platform development. Our latest ZOTAC H87-ITX WiFi provides users with an excellent starting point for a compact high-performance system that can accommodate the latest 4th Generation Intel Core processors," says Carsten Berger, Senior Director, ZOTAC International.
Plenty of internal and external expansion capabilities enables the ZOTAC H87-ITX WiFi to accommodate high-end graphics cards, storage devices and peripherals with a full-size PCI Express x16, mSATA slots, SATA 6.0 Gb/s and USB 3.0 ports. Class-leading network connectivity readies the ZOTAC H87-ITX WiFi for all your networking needs with dual Gigabit Ethernet, 802.11n (300Mbps) WiFi and Bluetooth 4.0 technology for high-speed connectivity via wires and wireless.
General details
New ZOTAC H87-ITX WiFi
LGA1150 socket
Intel H87 Express chipset
2 x DDR3 DIMM slots (up to 16GB) (speed varies by APU)
1 x HDMI, 1 x DVI, 1 x DisplayPort & VGA (with included adapter) outputs
4 x SATA 6.0 Gb/s w/ RAID 0, 1, 0+1, 5 support
6 x USB 3.0 (4 on back panel, 2 via pin header)
6 x USB 2.0 (2 on back panel, 4 via pin header)
Dual Gigabit Ethernet
1 PCI Express x16
Onboard 802.11n (300Mbps) WiFi & Bluetooth 4.0
Mini-ITX form factor