CNME secured an exclusive interview with Melvin D'Souza, Vice President – BFS Business Unit Head, at Raqmiyat to discuss how the UAE-based IT leader has been supporting the banking and financial services industry with its best-in-class solutions.
It has been suggested by many IT leaders that blockchain technology will have the same impact on transactions that the internet had on information. In your expert opinion, do you think it will fundamentally reshape the banking and financial services sector, or is the projected impact of blockchain being overhyped?
The world of banking is in a transformational process triggered by new technologies. The most important is blockchain technology, as it brings plethora of benefits to banking and financial services sector be it security, trust, verification, transparency, fraud prevention and many others. The data structure in blockchain can only be appended and not altered and with protected cryptography data ledgers are more secured. The technology allows for verification without being dependent on third-parties. Fraud or duplicate entry risk is removed by numerous consensus protocols used to validate entry. Banks which are keen to invest
in blockchain technology need to perform a strategic evolution and feasibility study on use-cases to determine which application can be enhanced with it. Many banks may not see a return on their investments in the initial years, but over a longer time frame adopting blockchain technology will transform the BFS sector.
You joined Raqmiyat in 2000, and have subsequently established yourself as one of the most experienced technology thought leaders in the IT ecosystem during that timeframe. What have been the most seismic changes that Raqmiyat has had to overcome in the last two decades, and what has been the key factor in its sustained success?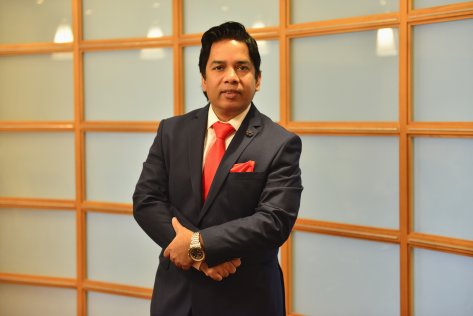 Over a period of 20 years, the banking and financial services industry landscape has changed significantly brought in by
the ever-changing business challenges posed by market dynamism and technological disruption. Raqmiyat as a company has evolved throughout this period by continuously upgrading and providing the best-in-class solutions, service and consultancy offerings along with best practices followed in the industry. We have partnered with customers to enhance their operational efficiencies, minimise their business risk and optimise their investments, resulting in sustained cost advantage, differentiation and strategic leadership over the competition. Raqmiyat has contributed remarkably through implementation of large turnkey projects in the financial sector. Strong understanding of the banking business coupled with experienced personnel, availability of extensive support infrastructure has helped Raqmiyat fulfil its uncompromising commitment to provide quality service, and special care to our valued clients.
What are your primary roles and responsibilities as VP – Banking and Financial Services at Raqmiyat?
In the last 20 years in Raqmiyat, I have assumed various roles and responsibilities including various leadership positions and currently heading the Banking and Financial Service Strategic Business Unit reporting to the CEO. As a Business Unit head, I am completely responsible for driving the P&L of the BFS SBU, maximising the company's operating performance and helping to achieve the company's financial goals. This includes assisting in managing the unit's finances, identifying ways to increase revenue and cost optimisation, analysing financial reports, and preparing operating budgets. One of the key roles is helping to build strong customer relationships. Having worked extensively with CIOs, department head across banks and financial institutions on their payments, digitisation and automation agenda, has played a key role in helping them become more competitive in the marketplace. Additional responsibilities include leading, guiding, directing, and evaluating the work of other employees, such as senior directors and managers, and ensuring a healthy working environment. Contributing to sales innovations, strategic business development, and the profitability of the company as determined by the company's strategic goals. Being a strong follower of balanced scorecard has helped me to achieve the above goals and responsibilities.
Can you outline to us which of your products and services you think will have the biggest impact on the banking market?
Raqmiyat brings along with our esteemed technology partners the latest enterprise solutions throughout the entire business life cycle. These include end-to-end IT consultancy services, as well as, business solutions that touch core business, digital banking initiatives, payments, AI platform and automation services. We are a big believer that IT is not only an enabler
to business, but a driver to it, amplifying where innovation and excellence really matter. Our Image Cheque Clearing System (ICCS) suite of solutions in collaboration with payment systems from Digital Cheque, MconGlobal and Aperta helps banks work with speed and agility. The Upgrade version ICCS Connect.Net is a functional and technical re-engineering of Raqmiyat's existing ICCS Connect application. Helping banks streamline and address growing customer demand and achieve significant savings in IT support costs, this solution leverages our extensive experience from working with over 40 leading banks in the region. Our state-of-the-art web-based solution ICCS Corporate extends ICCS Connect capabilities like cheque image capture and data correction to Corporates. Our other payment products WPS Connect, FTS Connect & DDS-Mubasher, AECB Taqreer are built by following best practices and features and offers host of benefits and overall efficiency to the bank.
Emerging technologies are continuing to disrupt major industries on a global scale. What technologies do you think will redefine the IT landscape in 2020?
AI, machine learning technologies and automation are poised to transform the overall IT landscape. AI is being adopted by many high-end financial business applications to improve predictability and visibility and resulting in transformation of workplace and business on-demand through enterprise mobility. Moreover, IoT will also witness a big leap, as more things get smarter at work, at home and across our communities.