Triplerr, a UK based startup and inventor of the voice lead for estate agents, announces today its official launch in Dubai, UAE.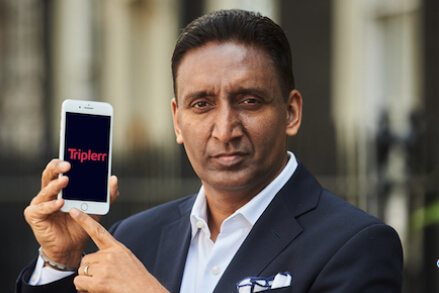 The company will offer the city's real estate agents a unique service that provides them voice recordings of customers, or voice leads with the opportunity to increase their lead conversion by up to three times.
Downloadable as an app and a first of its kind technology, Triplerr is a technology solution that works twofold: Firstly, property hunters log onto com, Triplerr's 'free-to-list' consumer facing sister site, which encourages users to register their details before allowing a call back. This response is actioned by a remote fleet of 'super agents' who will instantly qualify the property hunter by taking up to 20 pieces of information relating to their search. This means that every query is called back and qualified in just five minutes. This time frame of 300 seconds has been dubbed as being the 'golden window' and has been proven to boost the chance of converting leads into sales.
Secondly, this voice lead is then shared with estate agents on the Triplerr database so that they can listen, review and choose whether to purchase the voice lead.  As soon as they purchase, they are connected to the customer instantly. The voice leads lets agents listen to customers describe their requirements in their own voice…even before they have called or contacted the customer. Agents get 20 data points about a customer from the voice lead, in comparison to only three data points from a normal portal lead.
This means that the Triplerr platform uses these voice recordings to perfectly match property seekers and agents and connects them within minutes, improving agent response times and ensuring that agents connect only with customers that they are committed to servicing. This enables estate agents to increase lead conversion rates by up to three times, compared to normal internet leads.
Already launched and active in the UK since November 2017 and New York in March 2018, the app has already seen success in the Dubai market. 14 percent of estate agents in Dubai have already signed up to Triplerr and the quickest deal to be completed via the Triplerr app was a rental transaction, which took less than 24 hours from enquiry to completion.
Founder and Chief Executive of Triplerr Sam Singh, said, "With more than 91 percent of Dubai property searches taking place online, we know that property agents in the city are struggling with the huge number of unqualified enquires crowding their in-boxes every day. For every 100 enquires that Dubai agents respond to, on average only three customers will actually close a transaction with them. In addition to this, more than 80 percent of property hunters across the UAE have never had a completely positive estate agent experience, with nearly three in 10 (28 percent) admitting they don't get a reply or call back when enquiring about properties'.