GBM Vice President of Digital Business Solutions Cherif Morcos discusses how organisations can move forward in their digital transformation journey and how GBM can support customers break out of a "digital deadlock".
A recent whitepaper conducted by IDC and GBM revealed that between 2018 and 2022, IT-related spending on digital transformation will touch $7.5 trillion. How should regional businesses adapt to this new digital era to makes sure their investments will prove beneficial?
In the Gulf region we are seeing a growing number of customers who are increasingly focused on their digital transformation journey. However, the adoption of "emerging" technologies such as AI or Blockchain is still slow, especially in the private sector. These technologies are still in the phase of proving their business value to local, as well as global, organisations. As we progress into the so-called Fourth Industrial Revolution, we will see more adoption of these technologies. We are at a crossroad, there are less disruptors in the region and more adopters.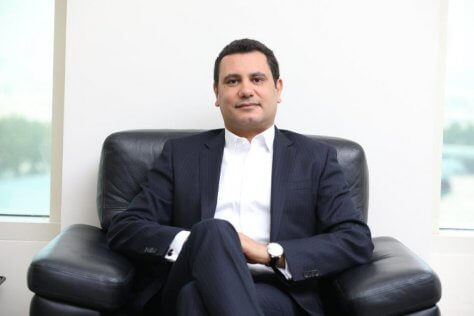 According to the IDC's CIO Survey 2018, 53 percent of large enterprises in the Gulf countries are currently undergoing digital transformation. While the local markets have seen disruptor successes such as Careem or the late Souq.com, I believe we are still in the middle of the adoption phase with surprising leap frogging in some industries. This environment creates big opportunities for GBM. We can take our customers to the next-level of their digital transformation journey. It's very important to us to also be able to show them the capabilities of the solutions we offer.
While we depend on our strategic partners in their development of these major themes and notions, at GBM we are able to transform these notions into real solutions, solving our customers' real business challenges. Having been in the region for over 29 years we are closer to these businesses. This is why in the past year we have been focusing and investing in reinventing our portfolio of solutions and our routes to market to provide actual industry content to solve day-to-day business problems for our customers, rather than just reselling the technology.
The aforementioned whitepaper explains organisations are stuck in a "digital deadlock". What does this mean and how can GBM help them to overcome this issue?
There is a major shift in the digital economy that is sweeping all markets, and more so in the Middle East. Software is no longer sold as a package, but rather as a solution to a business problem. This means that the more customers embrace digital transformation, the more they rely on Digital Solutions to solve their business challenges. GBM works with organisations at all levels of maturity, whether they are already embracing digital transformation, or just starting to explore it. Our main focus is to make sure customers can get to the next-level in their business journey and stay relevant in the market. IDC estimates that globally nearly 60 percent of organisations are stuck in the lower stages of digital maturity.
In light of this, we understand that to help our customers we need to bring together different technologies from a multitude of vendors, in order to be able to build solutions that can help customers apply the strengths of digital economy to their businesses.
You have mentioned many organisations are stuck in the lower stages of digital maturity. How can these businesses take the next step in their digital transformation journey?
There are many entry points to move forward in digital transformation. As we look more at our customers' needs, I think it's clear that their data is at the centre of everything they do. Whether you look at transformation from the customer facing side, or all the way down to the infrastructure, organisations take all their decision based on their data.
This is why I would urge any organisation on a digital transformation journey to have a look at their data and to create an information architecture for their whole organisation. This is clearly not an easy task – GBM offers the methodologies and technologies to help customers through this process. We can take our customers on an information architecture journey because we understand that the main disruptors and top-players in the market are currently monetising data. This is where the markets are heading and GBM is focusing and investing heavily in this area. We believe that an information architecture is key to this, especially for businesses that would like to start using technologies such as artificial intelligence to drive better insights and decision making.
Studies show that less than one percent of data produced is analysed and more than 80 percent of the available data is unstructured. Imagine the possibilities of information and knowledge if this data is captured, organised, and analysed in addition to the 20 percent of structured data.
One of the three elements the whitepaper mentions to accelerate digital transformation is automation. How does GBM help their customers implement automated and optimised processes?
We look at helping our customers from various angles – one of them is the digital automation that we can offer to them and that they can offer to their own customers in return. This is supported by processes that are more or less automated. When we talk to businesses in the region, we focus on two things: operational efficiency and enhancing revenues – so top and bottom line discussions. Automation comes into play to enhance operational efficiency. Many of our customers have processes that are not well integrated, not streamlined and not automated. In many cases human resources are also misused. One of the main concerns with automation and Robotic Process Automation is obviously the impact on people's jobs. This is why we help them understand that automation does not necessarily mean job losses, but rather transforming employees' responsibilities. Studies suggest that 50 percent of jobs that will arise over the next ten years have not yet been created.
There's always been a challenge to increase efficiency while keeping people's jobs, but we can automate processes to do manual jobs that might not need a person's skillset – I think as human beings we can do so much more than push a button every two minutes. This is not different from the industrial revolution of the last century. Having automated processes doesn't mean humans will become superfluous. The multitude of jobs won't reduce, it will change in nature.
GBM is helping customers with Design Thinking methodologies to solve their business challenges, to improve their current processes and applications, while modernising them, automating them and adding AI to them, when it makes sense. Moreover, operational efficiency is not only about reducing the number of resources needed, but also about making them faster and more efficient and secure. This level of efficiency cannot happen without some kind of automation in the background.
Earlier this year Smart Dubai concluded Phase One of their Paperless strategy, which aims to build an integrated government framework to go fully paperless by the end of 2021. How can GBM help Dubai government achieve this vision?
As I have mentioned before, 80 percent of data is still unstructured, and this poses a challenge for the public and private sector alike. The UAE government is very progressive in this regard. There are two main elements to any paperless strategy: capturing physical paperwork and digitising new transactions. In my experience, I have seen governments spending more money in creating physical archives for old paperwork, than to digitally capture new ones. Dubai government is embracing a positive shift with this strategy – they clearly understand the benefits of digitising all new transactions.
GBM is a strong player in this area. We have our own Content Management asset and we have recently added enhanced security to it thanks to the latest blockchain technology. As this notion picks up more and more, one of the main concerns will be in fact ensuring the integrity and security of each transaction. We are investing greatly to provide this level of security to our customers in the public and private sector.
Security is indeed a big concern for many organisations, specifically when it comes to their data. What is GBM's approach to your customers' data security needs?
As discussed, a key component for successful ROI of a digital transformation journey is the usage of data both internally and externally. We've seen that one of the inhibitors of data integration is the sharing element of data. This was already a big concern for many eGov initiatives and private sectors earlier this century, and the consequences of a security breach could prove even more catastrophic now.
GBM applies strong encryptions, methodologies and data ciphering technologies to ensure a high level of security for our customers. We are proud to have the right technologies to provide organisations with a strong data governance program. We are able to show them how to secure their data and how to securely share it. With the technology we have in hand, we have enough proof that sharing, integrating and externalising data doesn't have to be a risk for your organisation.