The device is priced at AED 3,999 making it more expensive compared to other markets
The Oppo Find X, originally launched in June this year in Paris is finally making its way into the UAE.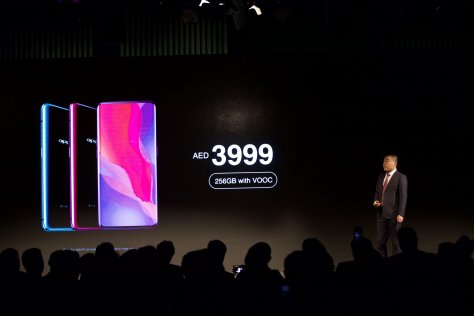 Chinese smartphone maker Oppo today launched its latest flagship device in the UAE as it aims to take on rival Samsung and Huawei in the high end market.
The 6.4 inch device comes with a stunning curved design with several cutting edge features such as a pop-up camera that slides out of the top every time you click on the camera button; a 3D facial recognition which is termed to be a high tech solution compared to fingerprint sensor with a false  acceptance rate of one in a million; and an almost notch less display with the visual screen ratio of 93.8 percent.
When not in use, the cameras are hidden and when activated, the camera opens automatically for unlocking and photographing.
The device comes in two gradient color combinations — Bordeaux Red and Glacier Blue.
The 3D cameras include the 25MP front camera and 20MP+16MP dual rear cameras with a 3D Structured light module with features such as flood illuminator, Infrared camera, proximity sensor, dot projector, receiver and RGB camera.
OPPO has already made it possible to pay with 3D Face Recognition by integrating Alibaba's Alipay, making Find X the first Android phone to support payment through face recognition.
This is Oppo's first major launch in four years and as Andy Shi – Managing Director of OPPO Middle East and Africa said the company is geared towards launching a new device only when there is a real technological breakthrough that necessitates an updated model.
The smartphone will be available across all major retailers starting today but interestingly, you will have to pay more to buy the device in the UAE compared to anywhere else in the world.
Oppo has priced the Find X in the UAE at AED3,999 ($1088). Now compare this to Rs59,980 (AED 3042 or $828) in India.
You can even order a unit online in the UAE for AED 3,441 ($930). Some online retailers are even offering a discount for the blue unit, currently on sale for AED 3,010 ($819) which is almost $269 less than the price in the UAE.
Watch to find out more: