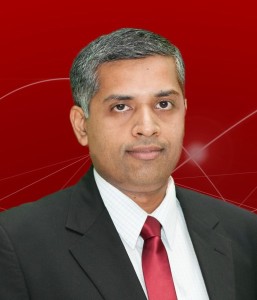 Redington Value has been recently signed up by VMware to distribute its whole portfolio in MENA region, with a special focus on software-defined data centres. We speak to B. Ramkumar, Senior Vice President, Redington Gulf-Value Division, about the deal and further plans for 2014.
What does it mean to have VMware in the portfolio?
This is a VAD 2.0 for us and it's a very important opportunity for us. Though we have been distributing Red Hat virtualisation solutions, it is a niche opportunity. VMware is the first solid virtualisation platform we have in the portfolio and they claim 83 percent market share worldwide on x86. The whole world is moving from physical to virtual environments. To give you a historical perspective, in the age of mainframes we have had a few million applications and clients, which ballooned up to 100-odd million with client-server model. Now, we are talking about billions of applications and devices. And from an enterprise standpoint, everything is moving into the cloud. So the industry is going through a fundamental transition and having VMware in the portfolio helps us to understand this trend and enables us to take our partners through this journey. The whole concept of the solution itself is changing with the advent of virtualisation and we feel that our timing couldn't have been any better.
Are you going to ramp up your own internal skills to support partners through this journey?
We are already doing that. In Africa, for example, we are going with VMware, Cisco and EMC for our converged infrastructure platform. In the Middle East, we are doing it with HP and VMware. We have upgraded our offices in Dubai, Saudi, Kenya and Nigeria, and have invested in dedicated solutions centres and training facilities. We are trying to get to a level of being the authorised training provider for many of our vendors. Currently, we are the training provider for some of the security vendors such as Dell SonicWall, Trend Micro and Barracuda.
What are your plans for 2014?
We touched an inflection point six months back and I believe our opportunity to grow is significantly higher purely because of our portfolio. We have 27 brands in our portfolio and we design our go-to-market specifically to country and market. We have broken down our markets into south Gulf, north Gulf and Saudi. Again in Africa, we have got East, West and we are now developing southern Africa. Recently, we have gone in-country in Angola, for example. So when it comes to each of these countries and markets, we have a properly defined go-to-market. We look at what our vendor partners want to do in these markets, then set up a go-to-market strategy independently and drive it. We don't work on a one-size-fits-all approach as some of these markets are big enough to be standalone and you've got to have a clear understanding of what you want to do to address these opportunities.
Lately, many major broadliners are getting into the value business. What is your take on this?
We were the first ones to make an investment, putting cart before the horse. You need to keep in mind that it is a long journey; it's not something you can build overnight. Partners also take a lot of time to warm up to the idea of value-added products and it's moving away the game of price, availability and reach. There is no concept of inventory in value-added distribution and it's all about what you do in the past time. It takes at least five years to really start delivering value and we had this foresight way back in 2007 when we set up the VAD unit within Redington Gulf.
Any plans to offer cloud services?
We are still exploring the options. We were the first distributor in this market to tie up with Amazon to resell their web services. We are trying to understand how cloud works in a two-tier scenario and find out the sweet spot for distributors like us.