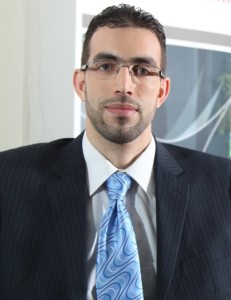 Few business sectors have been more profoundly affected than retail by the arrival of a truly interconnected digital era. Today's consumers are better informed, more demanding, and increasingly focused on mobile devices and the Internet to help manage and streamline their everyday lives.
This seismic shift in customer outlook and behaviour is to transform the Middle East retail environment which now needs to be built around an understanding that consumer expectations have been fundamentally affected by the advent of 24/7 eCommerce and the sheer power and convenience of smartphones and tablets.
Quite simply, technology and the Internet have changed the way in which consumers want to interact with retailers. Fortunately, technology can also provide retailers with a platform to meet these heightened aspirations. And if they deploy it effectively, companies will find themselves uniquely positioned to strengthen loyalty, increase sales and reduce business overheads.
For Middle Eastern retailers looking to thrive in such a dynamic marketplace, NFC (Near Field Communication) represents one of the most important tools at their disposal. To date, NFC has most commonly been associated with contactless payments, either via contactless banking cards or direct from embedded 'mobile wallets' on NFC-enabled smartphones. However, mobile payment is very much the first step on a much longer journey, one that can realistically promise to reinvent the in-store shopping experience.
The key to this potential lies in NFC's proven capability to deliver secure, reliable, one-to-one communication between a user and a provider. Smartphone penetration in the UAE is high and those mobile connected devices will fast become the hub around which modern lifestyles are played out, it is clear that NFC capability will soon be at the fingertips of the vast majority of the adult Middle Eastern population.
The critical question for Middle Eastern retailers is how best to exploit NFC to create fast, convenient and personalized shopping experiences for millions of consumers. The answer can perhaps best be provided via an imaginary shopper of the not too distant future — let's call him Ahmad — and a brief description of a trip to his preferred supermarket.
With an NFC enabled smartphone at his disposal, Ahmad no longer needs to laboriously write a list of his requirements before heading to the shops. Instead he can simply select favourite items from previous shopping lists that are stored on the phone, or scan the NFC-tagged goods in his kitchen that need to be replenished. On reaching the store, Ahmad can 'check in' by tapping his phone on an NFC reader.
With Ahmad's permission, this will enable the retailer to deliver discounts and offers direct to the smartphone, based not just on his immediate requirements, but also his previous shopping history. In contrast to conventional paper or card coupons, these discounts and offers are given to Ahmad precisely when he needs them. As a result, the days of fumbling for the vouchers provided by the retailer during his last trip to the store are a thing of the past. For the retailer, money no longer needs to be wasted producing and manually distributing millions of vouchers that may never be redeemed, or installing printers at every checkout to generate them.
Once NFC has helped forge this direct relationship between Ahmad and the retailer, the door is open to the provision of a host of added value services. Based on his immediate shopping needs, Ahmad can be provided with directions to the relevant aisles. Any out-of-stock items can be flagged up in advance, and the retailer can advise Ahmad of suitable alternatives, or arrange fulfillment at a later date via home delivery or 'click and collect' services.
Furthermore, if Ahmad has chosen to share any special dietary requirements or allergies with the retailer, potential problems posed by items on his shopping list can also be highlighted. He may also choose to scan NFC tagged posters and displays in the store, providing access to recipe suggestions, discounts, offers and competitions, all of which can easily be shared via social media.
As Ahmad walks through the store, he scans NFC tagged products before putting them in his basket or trolley. Clearly such self-checkout processes are not in themselves new, but in this NFC-enabled shopping environment, it is the consumers that provide the scanning infrastructure, not the retailers. Another business overhead is therefore removed, whilst Ahmad avoids the hassle of queuing at the checkout. With its embedded mobile wallet, Ahmad can even pay securely for the shopping direct from his smartphone, with the retailer's loyalty and reward schemes managed and redeemed as quickly and easily.
The benefits of the NFC shopping experience continue even after Ahmad leaves the store. Again with his permission, the retailer can use smart mobile messaging to maintain and develop a personal relationship with Ahmad between store visits. Crucially, these messages can be customized to Ahmad's unique characteristics and will provide the succinct, one click, interactive engagement expected by modern consumers. Whilst millions may now be connected to the same digital networks, this desire to be treated as an individual has never been more intense.
Although the arrival of Ahmad's 360° NFC-enhanced shopping experience is still some way off becoming a day-to-day reality in Middle East, it is important to stress that the building blocks are now very much in place.  NFC technology will soon be used on a daily basis by thousands of people in Dubai, notably in the form of mobile NFC transit cards on RTA's transit network. Undoubtedly, the momentum behind NFC is reaching tipping point. Once the technology is in place, it remains to be seen which businesses will move fast enough to reap the most positive commercial returns.
Many aspects of Ahmad's shopping experience are already being trialed by retailers in some European countries and with such a large retailer scene in Dubai, there is no reason why UAE retailers would not surf on the NFC waves too to enhance the shopping experience of their customers. For everyone operating in the retail sector, the lessons of recent history are clear: companies that react too slowly to technological change are the most likely to miss the chance to forge new and more valuable relationships with their customers.