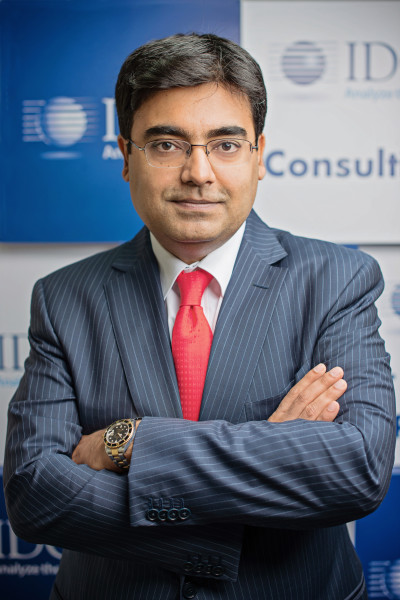 Jyoti Lalchandani, IDC's Group Vice President and Regional Managing Director for the Middle East, Africa, and Turkey, talks about how the CIO's role is evolving to become an organisation's innovation and integration leader.
Toward the end of last year, I spoke in this column of the need for the region's Chief Information Officers to prepare themselves for an evolution of their role, with the 'information' of their title eventually transforming into 'innovation'. Indeed, with their roles already encompassing the identification of disruptive technologies for pilot projects, CIOs are perfectly positioned to take on the mantle of Chief Innovation Officer, tasked with empowering business strategies, generating new revenue streams, and enabling profitable growth through the innovative implementation of cutting-edge ICT solutions.
The ability to innovate has never been easier, more affordable, more possible, and faster than it is today. And in game-changing times such as these, it's up to the CIO to take charge — or someone else will. But are there any other I-shaped strings that the forward-thinking CIO should be looking to add to his or her bow?
In short, yes. While the role of CIO as innovator is undoubtedly a crucial one, there are a whole host of other dimensions that must not be ignored as the ICT leaders of today strive to maintain their relevance in the ultra-competitive landscape of tomorrow. Broadly speaking, these can be categorised as Technical Dimensions, Business Dimensions, and Leadership Dimensions, with infrastructure, integration, intelligence, influence, and inspiration all joining innovation as key areas of focus for the future-ready CIO.
Within the Technical sphere, I expect CIOs to actively embrace the responsibilities that would be incumbent upon them as Chief of Infrastructure and Chief of Integration. The former is already a core area of accountability, with everybody across the business assuming that running the organisation's infrastructure smoothly and efficiently is the primary task of the CIO. Indeed, with legacy systems accounting for 65–70 percent of the overall IT budget, the highest priorities for CIOs will continue to be keeping the lights on and managing these legacy environments. Such processes and systems are globally interconnected and interdependent, so there is also a pressing need for a consistent and integrated enterprise-wide perspective.
CIOs must orchestrate this technology collaboration and ensure interoperability in their new guise as Chief of Integration. The ever-growing challenge in this respect is to accommodate each unique user's needs, mobility device of choice, and work arrangements while still maintaining overall integrity, integration, and security across the organisation. Enterprise architectures and coherent mobility strategies provide the necessary frameworks, and the goal is ultimately to enable the business across many different platforms, all of which are changing at an extremely rapid pace and are accompanied by their own inherent security implications.
Within the Business sphere, there is a clear requirement for the CIO to become the Chief of Intelligence. Data is now global, comprehensive, and massive, and extracting value from this data and presenting it in the most appropriate form to business users is a critical challenge. My regular discussions with the region's ICT leaders reveal that this priority already tops most of their agendas, with the vast majority of CIOs striving to empower their businesses with actionable insights. Big Data/analytics projects will change the way businesses make decisions, but many barriers — the high cost of technology, complexity of data integration, business and IT skills availability, and organisational maturity — must be addressed along the way, and responsibility for this lies firmly with the Chief of Intelligence.
The next aspect to consider is Leadership, something that has perhaps not been traditionally associated with the office of the CIO.  However, with approximately 61 percent of IT investment funding already coming from outside the IT department itself, we are seeing a shift in the way CIOs and other senior executives relate and collaborate. If the CIO is not the decision maker, he/she can still play a range of roles — from co-decision maker to partner to trusted advisor. And regardless of the level of involvement, the IT department may end up fully accountable for the integration, support, and success of the technology being introduced, so it is critical that the CIO is not left sitting in the dark. To this end, the CIO must gain support and drive action through others, serving as a Chief of Influence who proposes, reasons, persuades, uncovers, or creates incentives, finds common ground, and shares visions with other decision makers.
The final new role I encourage all CIOs to embrace is that of Chief of Interpretation, taking on responsibility for translating technology concepts into business terms. This will require CIOs to develop a culture of collaboration and champion continuous change management for the betterment of their organisations. And most importantly in this regard, the CIO needs to lead by example. They can no longer remain at the conceptual level of technology and delegate specific technology understanding to experts; they need to share the experience and fully immerse themselves in the new world they are helping to build. Simply put, they must walk the talk and prove there's more to their role than at first meets the I.