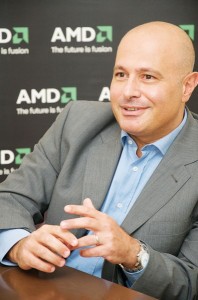 Bernard Biolchini, believes that working within the folds of the channel industry as GM and VP of Sales at AMD META has not impacted his personality, instead he attributes his success in this industry to his personality. "You need to be quick, carefully manage risk, always understand the diversity of your channel partners and sensibly build a win-win situation. Building a real and strong partnership based on mutual trust and understanding is the most exciting part of dealing with our partners. Being able to share business opportunities with them and encourage them in that specific direction is always rewarding. Channel is often seen as just an execution arm, especially in the volume business. I aspire to involve partners in more business development strategies as well," he says.
Biolchini adds, "I'm a diverse and multicultural person, and that makes me a perfect fit for this part of the world. I carry two nationalities, speak five languages, grew up in different countries and I've worked in different industries."
His multicultural upbringing has helped him develop the ability to accept, respect and understand varying points of view which he believes has accelerated his climb in the industry.  "I like diversity, and I appreciate having different views of the world, and understanding and accepting different ideas and points of views is crucial to me. I am a listener and always try to understand a situation from different angles, I believe this makes me different from many peers and leaders I have met and has been helped me in to find a better solution to the challenges I have to deal with in my professional life," he explains.
A student of mechanical engineering, Biolchini embraced the business of IT over 22 years ago and says that developing AMD's business in the region has been a significant achievement in his professional career. "This being said bridging the gap between strategy and execution has been a constant challenge, something I am passionate about and can talk about for hours," he says.
Married with a wife and two young children, he believes that a well-balanced life will make an individual far more productive and efficient at work. "The challenge we have in our organisation is that work-life is different for each member of the team, so you need to understand the needs of each individual. Personally, every time I'm in town I never miss kissing my children good night before going back to work from my home office.  The older I get, the more experience I gain, the less difficult it becomes for me to disconnect from the pressures of life at work. With more experience you can better anticipate difficult situations and better deal with them. I also make a big effort to not mix personal life and business, which helps me maintain a balance between both lives and leave the pressure outside the doors of our home," Biolchinin explains.
An avid sports fan, Biolchini is extremely passionate about golf, practicing the sport atleast once a week which he believes is just not enough to pursue a career in competitive golf. 10 years from now, he believes his diverse nature will see him move on to another industry. "After having spent most of my career in working in MNCs, I see myself working in a smaller organisation, the possibilities are endless. For now my dreams and ambitions are completely focused on AMD where I strive every day to build a strong and sustainable organisation and reinforcing our leading market position in the META region. I will be happy when all our customers in the META region understand the benefits of having a choice when buying a PC," Biolchini concludes. //