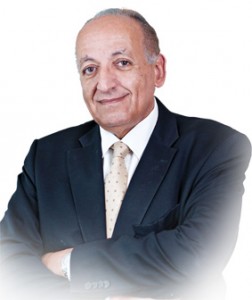 "People are the greatest asset and a great source of knowledge, so I learn to listen and put my trust in people and their skills. I learnt to make calculated risks without which you cannot succeed. One can never stop learning, so I never stop studying. I also learnt that if you do not like what you do, then change and sometimes you have to follow your heart"
Dr. Amir Ali Baghdadi graduated from Cairo University with a major in Electronics and Communications, following which he enrolled at the Imperial College, London University to pursue a Masters and PhD in Computer Science.  "During this period, I also worked for the University as a research fellow, studying automating petrology and mineralogy test equipment.  I also worked as a consultant to the Common Wealth Science Council and UNDP on alternative energy projects," he says.
Dr. Baghdadi founded Aptec when he was still at University. Thirty two years later, Aptec Distribution has sales offices in the UAE, Saudi Arabia, Egypt, Turkey and Lebanon in addition to its 10 support offices. The distributor carries a sizeable vendor portfolio and maintains a well balanced business model across software, hardware and networking technology segments.
"The ability to recognise changing market dynamics together with the ability to adapt to this change has kept us going for the last 32 years. These are the keys to survival," he proudly states.
The switch from an academic environment was exciting, he says and all the more so because while he got to apply his acquired knowledge, he acquired new skills and industry expertise 'on the job'. "Back then, the IT business allowed just enough room to be able to make mistakes, learn from them and still make money," Dr.Baghdadi says.
He also set up other businesses in the areas of software development, solar technology as well as media and aviation technology.
In the meantime, Aptec Distribution is touching almost $500 million in annual revenue and has maintained a healthy growth rate of 14% over the last three years.
"In my opinion, the strength of the group executive is in the strength of his team. The CEO may have the ability to get down to details, but it is more important to provide guidance, vision and opportunities for his leadership team," Dr. Baghdadi states.
He believes that vision, the ability to plan and empower, leadership skills and market knowledge are essential for success. "A group CEO is one who has all these skills and can still recognise his own weaknesses and most importantly, has the ability to recognise good talent," he says.
Dr. Baghdadi believes, "Every element in the company structure is important. IT distribution companies have to be significantly more efficient and sharper than their vendors in order to be viable. The barrier to entry today is quite high as the role of the distributor is now much larger than before and therefore it is important to always remember that every part and every person counts."
Although the biggest challenge is finding enough time in the day to fulfil his many responsibilities, Dr.Baghdadi values his role at Aptec because it gives him an opportunity to introduce the latest smart technologies. In fact, in recent years, the company has revised its business strategy from a volume based broadline approach to a value added distributor's role. Being well read and extensively educated, Dr.Baghdadi places immense importance on training and skills enhancement which is considered an important channel deliverable at Aptec.
He prides himself on his ability to stay calm in the face of any storm and lists patience as his core competency. "I don't believe in running too fast. Instead I prefer steady and consistent growth. I believe it is much more important to develop our people, enable our channel partners, and work out short term objectives in a bid to achieve long term growth. This approach helps manage our working capital effectively, invest in the growth of our people while simultaneously expanding our reach across the region," he says.
True to its strategy, the distributor has invested in independent managed services in addition to logistics support operations. It has also expanded operations across the CIS countries and is exploring opportunities for operation in the North Africa market.
His advice to young professionals aiming to one day be group executives is, "Come work with Aptec, but remember it's no easy task."