Huawei's recently launched OpenLab Dubai now sits as its regional hands-on hub for experiencing public safety, smart city and oil and gas solutions. The firm's regional managing director and vice president of its Enterprise Business Group, Alaa Elshimy, explains how the Lab can benefit potential customers in their decision-making and technology education.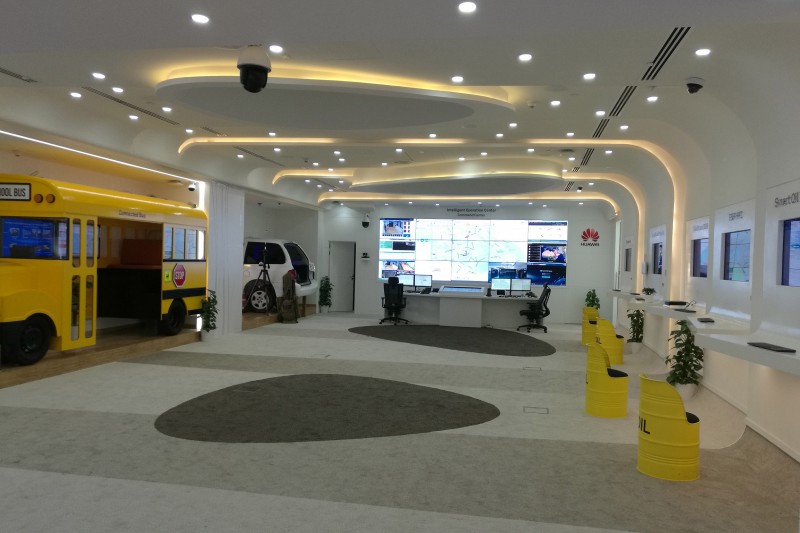 Why has Huawei homed in on oil and gas, safe city and smart city solutions for its Dubai OpenLab?
The OpenLabs solutions across the world are similar. We try to understand each market and its needs. We are in the era of industrial digital transformation, and this is a key reason for us making this particular investment.
The Middle East represents one of the biggest regions in the world for oil and gas production, and this industry in particular is in need of digital transformation. We've leveraged other ecosystem players to come up with new solutions.
Huawei is focusing on public safety across the globe, and safety is becoming a priority worldwide, and particularly for the Middle East.
In terms of smart cities, our work in the OpenLab encompasses the broader transformation that is going on, and includes smart education and transport. The objective is to make the lives of citizens easier and to make them happier; to my knowledge, the UAE is the only country on earth with a minister of happiness. Smart education allows for students to attend a class from anywhere without physically being in a classroom. Aggregated systems also allow easy assessments of the students' and teachers' performance with clearly displayed KPIs.
Is digital transformation in the oil and gas industry a realistic prospect given the tough times it has faced?
Oil and gas companies may spend more today on technology, but when they look at the TCO and ROI, they will save money in the next 3-5 years. When you start to have automated asset management, you have better control and utilisation of your assets.
We are working with one of the biggest oil companies in Saudi Arabia, where we are building a complete safety solution. The key component there is the infrastructure. The cameras, sensors, telecommunications connectivity and cloud computing blend allows them to build so many applications on top, enabling a digital oil field. In the field itself, sensors from Honeywell, combined with Huawei devices, allow their head office to immediately detect if there is a leak or spillage. This is just one example of how an energy company has digitally transformed in the region.
Do you think having a facility like OpenLab gives you a key advantage over competitors?
Absolutely. It gets us closer to our customers, as we are being proactive to help them solve problems and build new solutions that suit their needs. OpenLab Dubai has a mandate to provide innovative solutions for IoT, cloud computing, large data, intelligent analysis, eLTE, converged communications and other new technologies.
We're keen to listen to them, and learn how we can work together to tailor what we can offer. We're working very closely with them, our partners and our ecosystem to build solutions that can digitally transform these particular industries. CIOs across these industries need help in delivering transformation initiatives to improve their customers' experience.
OpenLabs is one of the four most important venues of its kind in the world, and we've opened one in the Middle East because it's a very important strategic hub market for us. Huawei is planning to add seven new OpenLabs across the world in 2017, and will invest $200 million globally in the next three years, bringing the total number of OpenLabs to 20 by 2019.
I'm personally proud of OpenLab; no other competitor in the region has anything similar.
How important a role will machine learning play in your future solutions?
It's absolutely a priority. We are driving it from an industrial point of view. Historically, it may have been the case that vendors would go to the market with technology and customers would buy it. Now, the reverse is the case, in the sense that you need to understand what customers need and what will benefit them, and vendors need to go and develop that. In that respect, machine learning is very important.
I think it's important to use it when it's needed, and not to insert it into every single solution. Again, it's dependent on individual use cases.
Based on your feedback from regional police forces, how has your technology impacted safety standards and what results have been achieved?
One of the biggest Huawei Safe City implementations globally sits here in the Middle East, in Saudi Arabia. The last Hajj season was accident-free as a direct result of our technology.
We are working with YITU, Zenith and other partners, for face and license plate recognition, population density analysis, public opinion analysis solutions, and with Esri in data management to jointly build intelligent parking, intelligent buildings, smart meters and intelligent lights.
You've also got a few smart home technologies on display at the OpenLab. Will Huawei be targeting the consumer space more in the near future?
The solutions are targeted more for big projects, and not so much for consumers. It's so our distributors can take the solutions and sell them to SMBs. This is usually for large contracts within the construction industry.
How important a role do Huawei's partners play in the solutions that are on display at the OpenLab?
For each solution in the OpenLab, it doesn't just constitute one application or vendor. They're a combination of different applications to fix specific problems and meet specific objectives for customers. Concerns including better asset management or control, a safer environment, enhancing bottom line or the customer experience can all be addressed with these solutions.