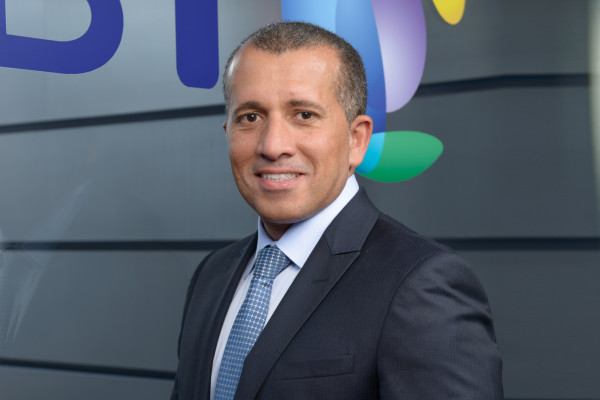 Wael El Kabbany, Vice President, Middle East, North Africa and Eastern Mediterranean, shares his predictions about the technology landscape in 2016.
From the fascinating integration of the Internet of Things into our daily lives, to the evolving exploration of how to improve business outcomes using cloud, collaboration, mobility and networks, there's no denying that changes are coming faster and faster.
BT's 170+ country footprint puts us in the unique position to spot these changes at a pace that I can proudly say is well ahead of the pack. Our extensive global network ensures we catch key trends and anticipate vital needs, and use that knowledge to bring to life the innovative products and services our customers need so they too can stay ahead of the pack.
So what are the big tech trends for 2016?  Here's my view…
Digital business transformation – the art of connecting
Customers are driving the need for businesses to embrace digital transformation- demanding faster, more personalized services and experiences, 24/7 connectivity and almost proactive responses to challenges and queries. Whether it's in our capacity as consumers, citizens, workers or patients, to name a few, the way we adopt and use new technologies, affects the corporate agenda of digital transformation. Along with changing market realities, disruptive newcomers in many vertical markets, economical challenges and opportunities for optimization, the need for digital transformations in this hyper connected age is imperative. In 2016, businesses will need to understand and intelligently apply the art of connecting, that is the backbone and the heart of business transformations, the optimisation of processes and, last but not least, the improvement of customer experiences.
Embracing the cloud of cloud vision
Cloud services will only continue to rule the roost as more and more businesses realize the immense value in the 'pay-as-you-go' models that offer unmatched scale and agility, allowing business leaders and IT teams to focus more on innovating business than managing day to day IT needs. Analyst firm Gartner forecasts public cloud services in the Middle East and North Africa to reach $880 million in 2016, up from $ 737 million in 2015. Business Process as a Service (BPaaS), the largest segment of the cloud services market in MENA is expected to grow 7.3 percent year on year in 2016.
While cloud services are undoubtedly the right IT model for the business intent on scale, there are some operational caveats. Regardless of where they are based or where they operate, enterprises need to be mindful of industry regulation and local legislation. In our interconnected world, that can get complicated. Secondly, enterprises need to think about how cloud services will work together, and with existing internal systems. And most importantly, remember that the performance of cloud services can only be as good as the network – and no growing business wants to build its own global IT network. Give all these facts, we believe that 2016 will see businesses work to embrace the 'cloud of clouds' vision working together with vendors and consultants to pull all cloud services and assets together into a single 'cloud of clouds' to be delivered via a single secure network. For the growing business, this 'cloud of clouds' IT model is a practical framework in which to leverage the best cloud service investments from any vendor, while benefiting from the highest standards of security, compliance and network performance.
Smart Cities emerge as champions of integrated IT projects
Many cities in the Middle East are already witnessing the emergence of smart government services and furthermore, Smart Cities. These projects continue to encompass every aspect of community life bringing together different stakeholders together to outline the intelligent management of everything from safety and security systems to parking and traffic management, waste reduction, eco-conservatism and energy utilisation. From driving industrial development to building human capital, 2016 will only see these trends grow further, bringing the application of best of breed technology together with the leading policymakers and thought leaders to create truly data driven cities of the future. According to the IDC FutureScape Worldwide Smart City 2016 Predictions, by 2017, at least 20 of the world's largest countries will create national Smart City policies and guidelines.
CIOs driving digital business
As organisations in the region continue to embrace digital transformation initiatives, CIOs will continue to see spending on ICT moving outside their control with more Line of Business executives driving decisions on investments based on different department and business objectives. Contrary to popular belief, the scenario poses a new opportunity for CIOs who are increasingly seen as the leaders influencing the direction of digital initiatives supporting both the traditional and digital business models.
Creating the right cloud cover
As said earlier, we expect that in 2016 more businesses will realise the true potential of investing in connected clouds (or what we call the cloud of clouds). But this movement to the cloud brings up its own security concerns, and one that immediately springs to mind is identity theft. The cloud allows your people to benefit from mobile working, but working from personal devices can put their identity at risk.
It should come as no surprise that interest in services from third-party cloud security providers has already leapt by 10 percent in the last year. In fact, global companies are set to spend more than $2 billion on cloud security by 2020. So in 2016, you're going to want to look at how you can use these services to protect your data (and your identity), in the cloud.
Full Circle with Security
Technologies like cloud, the Internet of Things, Big Data analytics and cognitive computing, that power the digital transformation economy, come with specific security challenges which need to be addressed, making security more pervasive and embedded in a broader ecosystem of connections, people, devices and data than ever before. In 2016, it will be extremely vital for enterprises to invest in and innovate for future security concerns beyond the short-term technological roadmap. An example: maybe today the Internet of Things is not on this roadmap yet but when it does, organisations need to be able to focus on business innovation and rely on a secure environment. That's the reason why we are one of the leading companies driving the direction of the IoT security foundation: for future business success and innovation capacity.
Over the last year, we have already seen many of these trends taking shape and there is no doubt that 2016 will be a defining year not just for the ICT industry but for business everywhere as technology continues to bring new capabilities and assets to enterprises and decision makers across the globe.