CNME Editor Mark Forker managed to secure an exclusive interview with Vaneet Mehta, Associate Vice President and Region Head, Middle East, Central Asia & Africa, at Tata Communications, to find out how the global telco provider has responded to an increase in demand for network capacity and bandwidth, what the future of the workplace will look like – and what can be done to make enterprise IT infrastructure more resilient.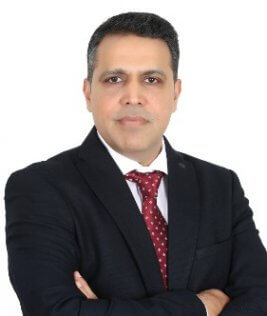 Can you outline to our readers how Tata Communications leveraged its technological expertise to help its customers maintain 'business continuity' during the COVID-19 pandemic?
With COVID-19, remote working has become the new norm for employees across the globe.
As customers implemented their own work from home measures and looked to shift workloads seamlessly across borders as part of their own business continuity plans, a much higher amount of IT and network resources started being consumed, due to employees video-conferencing customers and colleagues, and accessing large data files stored on the cloud.
The IT infrastructures across most organisations globally were not designed for this level of usage. Enterprise platforms and collaboration applications were overburdened.
They made urgent upgrade requests to service providers, cloud/content service providers and OTTs to cope with the usage spikes. Some content providers and ISPs even tried to intentionally adjust HQ multimedia content to a lower quality to meet the demand.
Tata Communications witnessed an increased demand for network capacity, together with requirements for bespoke solutions that enabled efficient and secure remote working.
Right from the start of the lockdown, Tata Communications was able to augment its network capacity and provide integrated, scalable remote working solutions with in-built secure access to a company's corporate applications wherever they are hosted, to customers across the world.
By March 2020, we delivered over 650 customers orders, and 1.35 TBPS of additionally provisioned bandwidth – signifying a higher demand for data bandwidth. We also saw a 30% growth in internet traffic on our network in March compared to January 2020.
Tata Communications has been supporting tens of thousands of users across more than 150 organisations, to work from home, collaborate seamlessly, improve employee productivity, and maintain business continuity during this time – truly enabling borderless collaboration.
The COVID-19 pandemic has impacted how we work, when we work, and where we work. However, in your expert opinion what does the future of the workplace look like?
The global pandemic has introduced radical changes on both professional and personal fronts and has forced tens of millions of people to adopt remote working almost overnight. As the world bounces back, it is unlikely to go back to the way it functioned pre-COVID.
In the post-COVID era, digital transformation will not be an option, but a mode of survival for most organisations globally. As enterprises are resuming operations, investments in digital platforms will no longer be defined by IT teams but demanded by business teams that need to drive employee, customer, and partner experiences.
Enterprise leaders will actively migrate to new work models that require less face to face interactions. Through this new approach, they will also look to deliver exceptional and innovative customer experiences, enhance operational productivity and efficiency, manage risks, build agility, and drive business growth.
In this new normal, more than 50-60% of employees across various enterprise segments are likely to continue to work from home. And hence, enterprises need a more robust, secure, and scalable work-from-home solution to be able to support this shift.
To help enterprises adapt to this new normal, and future-proof themselves, Tata Communications launched its Secure Connected Digital Experience (SCDx) proposition to enable enterprises to harness the power of digital technologies and drive seamless experience for employees, customers, and partners.
There has been a huge acceleration in digital transformation. How has COVID-19 impacted your business. Are you seeing a growing demand for a 'contactless customer service' model?
While COVID-19 has disrupted businesses, customers reliance on our services have only increased. During times of crises, customers seek guidance and support from their trusted brands more than ever.
At Tata Communications our SCDx proposition meets this growing, worldwide demand for new ways of operating, which includes, far higher levels of working from home, rising security risks, a shift to video commerce and more contactless experiences for employees, customers and supply chain partners.
Our Digital Customer Experience Platform is helping recreate the in-store experience online for B2C companies, with the next generation of enterprise commerce and video collaboration solutions for superior digital customer engagement.
It integrates different technologies such as cloud, artificial intelligence (AI), video streaming and hosting to create a secure and stable experience. The platform combines the intelligence of software, application, and telecom connectivity to provide a near-real experience to customers right from browsing to the end purchase.
What can be done to make enterprise IT infrastructure more resilient, and what would be your recommendation for enterprise security in the present context?
Digitisation has become crucial for businesses in 2020 and beyond. Understanding, adopting, and fast-tracking digital transformation is extremely crucial for enterprises today.
This transformation could be around cloud adoption, work-from-home solution implementations, managing cyber threats, and/or optimising cost of operations, as all of these ensure business continuity and help enterprises remain relevant, agile and profitable in this dynamically changing market scenario.
As work from home becomes the global norm, cybersecurity has become critically important. To support corporate agility, Tata Communications is working with their customers to deploy simple but effective security strategies that can be implemented seamlessly and quickly within days.
Our zero-trust network access (ZTNA) partnership with NetFoundry (a subsidiary of Tata Communications) ensures that employees enjoy secure access to applications and data in the cloud, regardless of location, device or broadband connectivity, with 3-10X performance acceleration.
On sensitive and critical business applications that cannot be hosted on Cloud, but are homed in enterprise Data Centres, Tata Communications' Global Secure Internet Gateway Service (GSIGS), Managed Authentication (mAuth), Secure Web Gateway (SWG) and Privilege Access Management solutions enable end user with access, control and policy compliance, along with seamless user experience to manage and deliver work as usual.
Finally, Tata Communications is a global leader in communications, but what differentiates the company from its rivals and how has it managed to sustain its phenomenal success over such a long period of time?
What sets Tata Communications apart is its ability to continuously transform itself and innovate to stay ahead of customer and market requirements.
Whether it was the decision to move from a Indian voice monopoly to a global communications service provider or making the right business decisions to invest and grow – owning and operating the largest wholly owned and advanced subsea fibre network, carrying around 30% of the world's internet routes or innovating to offer customised solutions for a post-COVID world even before most organisations had thought about their move to tackle the disruptions brought on by the pandemic.
From its inception to now, Tata Communications has evolved significantly and has supported its customers through their digital requirements for almost two decades.
Today, Tata Communications is a global digital ecosystem enabler, bringing together for its customers, the entire technology ecosystem that plays a role in digital transformation.
We work alongside our customers to re-imagine their business strategy and technology landscape to adapt to the emerging challenges and scenarios by adopting a digital first model to provide a seamless experience for their employees, customers, and partners.
Our lineage of the old telco world, coupled with our knowledge of the new digital world, sets us apart from other players in this digital ecosystem.
We understand the nuances of connectivity and networking, combined with our expertise in cloud, UCC, mobility, IoT and security, and extensive partnerships means that we are a long-term partner in our customers' digital transformation journey as an enabler of this ecosystem.
We've had an incredible journey for the past two decades and I am very excited to continue to be part of the next phase of our growth – both in the region and globally.