Ed Tucker, Co-Founder of fast-payment startup Timbl, has urged on the hospitality sector across the UAE to embrace and harness the capabilities presented by 'data science' in a bid to reimagine and transform their business model in the new and at times complex and fast-moving digital economy.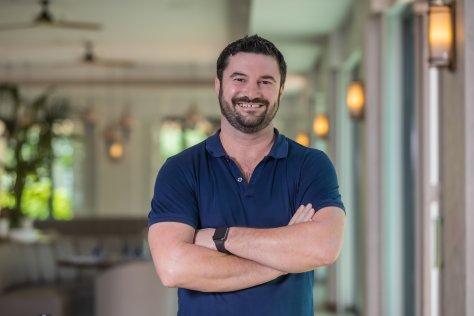 Tucker has penned an in-depth and forensic op-ed, which examines in detail the need for the F&B sector to implement data in their long-term strategy and vision for their business.
Tucker believes it is no longer an option to consider investing in data science, bluntly put, if they fail to do so, then they won't survive in an increasingly competitive market driven by 'experiences'.
More than two years of the pandemic has acted as a lightning rod for business. Smarter solutions to ride the waves of disruption are emerging everywhere. And the hospitality industry is not immune.
Lockdown measures hit restaurant and bar operators hard and in turn they have had to think on their feet to maintain a semblance of their pre-pandemic revenue streams. Bouncing back is critical to the sector and the UAE F&B scene is has been well prepared thanks to a consistent demand for a wide range of quality leisure experiences and strong leadership around COVID policies.
The UAE is equally fortunate to have entrepreneurial innovators providing well timed solutions such as digital menus and order-at-table experiences. As a beacon of innovation, the UAE has embedded tenets that will encourage the use of technology and smarter thinking in the nation's long-term visions, such as "UAE Next 50". Transformation across all sectors is vital to these long-term visions and the creation of sustainable models for business and society.
However, many F&B operators need to plan for life after COVID if they are to align with the nation's sustainable growth. Sure, there will be opportunities to shave some costs to protect or even improve the bottom line, but this won't help business growth. Their core foundation for success is to plan for sustainable growth. That can only be achieved by seeking market penetration through competitive advantage, product differentiation and targeted marketing. And the key to all this is data.
This comes as a wake-up call to F&B operators as they fall into that very small group of businesses who have managed to get by without knowing too much about their customers. Now, operators are at a crossroad; whether to maintain and survive by cutting costs or to thrive by investing in data science.
We live in a hyper-connected digital world and businesses have no choice but to innovate. That means reimagining their businesses in order to prosper through long term sustainable growth. As far back as 2015, PA Consulting's advice was to "embed your organisation's data capability in the business operating model to become a successful data-driven company."
Everything can be supercharged through data science. For example, operator spending on marketing will evolve from "spray & pray" to a completely measured approach and getting the right message to the right customers on the right channel. Data means we can get our message timing right with tailored call-to-actions and tone of voice. A true one-to-one targeted marketing approach.
Here's the thing: the value of their data grows over time, creating a powerful source of management insight and competitive advantage. Imagine if F&B operators could delight customers with the awesomeness of a fast payments experience while capturing customers' identity.
Imagine if all customer and transaction data could be visualised in real time so that can be quickly understood and acted on.
Timbl has now provided hundreds of data points that allow our restaurant partners to gain a wide range of benefits –including personalised customer experiences, enhanced business processes, maximising table occupancy and staff retention. Restaurants are now able to track everything from the methods in which their staff receive tips to what drink and meal combinations specific customers like to order. Personalised experiences – from payments to marketing communications – ensure customer retention and growth.
For those who haven't started, the journey to data rich operations can start now. The first step is clarity on the strategy. Are they looking to streamline operations and reduce operating costs or looking for a competitive advantage and revenue growth? Data is crucial to defining and executing such strategies.
Secondly, operators need to align their strategy with their capability. Do the business leaders understand the power of data and who should have access to what data throughout the organisation? Are the leaders ultimately prepared to set goals based on the measurability that their unique data points will provide? Awareness is key and that applies to everyone in the organisation being data ready.
And lastly, F&B operators need to complete a gap analysis to assess their systems and infrastructure to fully understand if they are ready for data rich resources. If they're not, then they need to define what they need in order to turn data into results.
Our experience tells us that operators are willing but often caught in a "you first" mode. The winners will be those who make data the beating heart of their operations quickly to build sustainable business models that line up with the vision of the UAE. This requires strategic partnerships with companies like Timbl who have data in their DNA. The opportunity for growth, personalisation and awesome experiences is immense. But the journey to data needs to start now.