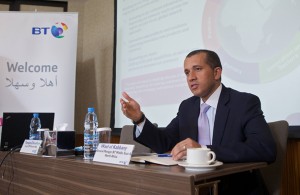 BT today announced new features to its BT Assure security portfolio aimed at protecting enterprises from threats arising from the consumerisation of IT and the big data explosion.
BT said the new innovations in BT Assure were inspired by a recent exclusive survey it carried out, which found 74% of IT directors and executives said mobile device security, and the bring-your-own-device (BYOD) trend, is the biggest security challenge they face this year.
The survey, titled 'Rethink the Risk', also found that 40% of companies have experienced security breaches due to people bringing in unauthorised devices.
As a result, BT has introduced the Assure Secure Web feature, which offers customers a uniform web access policy for all remote devices – whether employee or company owner – within one single, centralised and instantly updatable view and control point.
Additionally, the Mobility Lifecycle Management feature covers both employee and company owner devices with granular access rules, role-based usage, remote wipe and cloud updates.
In response to the big data trend, BT has also introduced Assure Analytics, which uses BT's groundbreaking data analytics and visualisation system to enable better real-time decision making about effectiveness of policy, internal or external usage of resources and typical threat profiles.
In further consideration for data analysis, BT said its Assure Cyber feature offers a higher touch, more controls orientated approach to security incident and event management (SIEM), allowing for analysis and reports that are fully interactive and customisable.
Finally, Assure Evaluator allows customers and prospects to see how their state of security readiness compares to typical enterprises, and helps steer them towards the areas of most pressing concern.
"The best companies understand that commerce is ultimately a trust relationship. Technical ecosystems can however sometimes fail to meet their ambitions, challenging the trust between companies, their customers, and their supporting players. Our customers face new opportunities to proactively lead with security, placing security firmly in the heart of the boardroom," said Wael A. El-Kabbany, MD for the MEA region at BT Global Services.
"By promoting intelligence and innovation through our BT Assure portfolio, we help our customers to identify, implement and deliver security where it matters most, building it into the heart of the organisation rather than just bolting it on. Trust needs to be backed by a continuous investment program in skilled people, as well as state of the art global infrastructure and security management systems. This is definitely the time to rethink the risk," he added.
Tareque Choudhury, CSO at BT, said there has been a shift in security where it is now more effective to be proactive than reactive. However, he emphasises complete security is impossible.
"You'll never get rid of all of your risks. I say to any organisation, if somebody tells you they have no risks on their network, they don't understand their organisation," Choudhoury said.
"There is always risk, but it is all about mitigating that risk. Being proactive at least minimises that risk. Every organisation has to accept certain amounts of risk. The protection lies in understanding the risk and where to be proactive," he added.