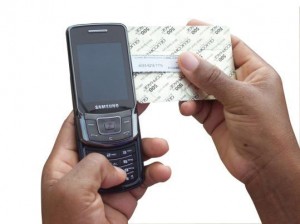 With a commitment to incorporate IBM analytics into its offerings, U.S.-based Sproxil is set to expand after its initial foray in developing countries, where its anti-counterfeit software met its first test in saving pharmaceutical companies money.
Sproxil has been collaborating with IBM to analyse real-time consumer data to detect and prevent drug counterfeiting in emerging markets, where 25 percent to 50 percent of all medication is believed to be fake, according to an announcement from the companies at IBM's Impact conference in Las Vegas.
The anti-conterfeiting software vendor – which is already operational in Nigeria, Ghana, Kenya and India – is expected to save pharmaceutical companies money, given projections that counterfeit drugs cost the industry $75 billion a year.
"Many of our clients are in locations where high-speed Internet connectivity is unreliable or nonexistent. Through our work with IBM, we can enable our clients to render charts with high-speed, even in low-bandwidth situations," said Sproxil CEO Ashifi Gogo.
Sproxil, based in Cambridge, Massachusetts, won IBM SmartCamp Boston in 2010, and its efforts to allow consumers to verify the authenticity of prescriptions in seconds with their mobile phones attracted a first round of financing of $1.8 million last year.
Now, they have secured and are looking to receive $1.5 million more in venture capital this year. SmartCamp is an IBM contest that introduces start-up companies to venture capitalists, academia, government and industry leaders who can help them grow their businesses, Sproxil was awarded an honorary mention in the finals.
The company is using IBM's ILOG Elixir software, which provides visuals such as advanced charts and graphics. Through a cloud-based service, Sproxil works with telecom companies to provide clients with secure, reliable data access through text messages.
Clients such as Merck and GlaxoSmithKline use the company's Mobile Product Authentication (MPA) application to affix a scratch-off label with a unique code to each package of medication.
"Upon purchase, consumers scratch the label to reveal the code, which they then send via a free text message to a telephone number provided on the package; within seconds, consumers receive a return text message from Sproxil letting them know if the medication is genuine," Gogo said.
The project has made headway in Nigeria, where it has received backing from the government and the public, according to Sproxil. So far, the company has received 1.4 million texts from a million users.
"Sproxil continues to advance its MPA solution to make it easier for us to successfully prevent consumers from being subjected to counterfeit medications," said Chokri Ahmadi, business director for the Merck Group, West Africa Region.
Gogo said statistics show that of the one million malaria deaths that occur worldwide each year, 200,000 are reportedly the result of counterfeit anti-malarial drugs while the World Health Organization indicates that 700,000 Africans die annually from consuming fake anti-malarial or tuberculosis drugs.
"Sproxil and IBM share a commitment to using technology to protect the health and safety of people around the world. With the help of IBM, Sproxil and its clients are making prescription drugs safer for millions of people who live in areas where counterfeiting is rampant," said Paul Chang, supply chain solutions leader at IBM.
By working with IBM and telcos, Gogo said cloud-based technology has allowed the company to provide security, reliability and management support services typical of private clouds.
The company is hoping to expand its offerings to include counterfeit fertilisers and seeds, a move expected to improve food productivity in Africa, where the sale of related counterfeit goods is rampant.