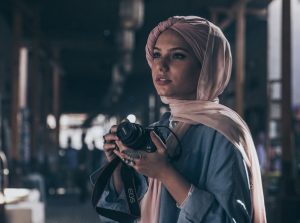 Canon Middle East has announced a partnership with Arab YouTube star and leading travel influencer, Haifa Beseisso to launch the company's new brand proposition for the consumer and professional imaging business.
Canon's new brand proposition aims to shift perception of the company among a younger audience. The new proposition 'Live for the story' encourages people to find special memories in all moments of their life, no matter where they are or what they are doing, said the firm.
As part of her partnership with Canon, Haifa Beseisso will take the campaign forward in the Middle East region by creating videos that will tell her story of a unique local influencer who loves to travel, talk to people and discover the world in her own way. The campaign will also see a competition being launched where the public will be invited to share images under the theme of #LiveForTheStory and 3 winners will be selected at the end who will get to travel with Haifa.
"'Live for the story' is an industry-defining approach developed to completely change the way that people view Canon. The shift sees Canon cement itself as a storytelling brand, ensuring that every output from its entire ecosystem and product portfolio helps consumers to tell their story," said Venkatasubramanian Hariharan, head, B2C Business Unit, Canon Middle East.
Experiences are what matter and this is where the firm's focus is, he added.
"'Live for the Story' has been developed to inspire people to do just that. Through every element of Canon's repositioning, we are encouraging people to be ready to capture stories they are creating every day," said Hariharan.
The company urges applicants who think they have what it takes to inspire people to find their own stories can apply by sharing their most memorable summer story on Instagram, tagging their local Canon handle @CanonME and #CanonME and #LiveForTheStory.