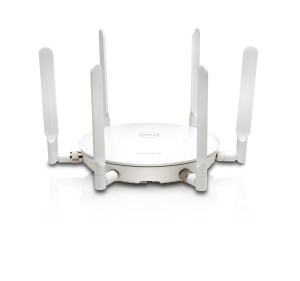 Dell has introduced the new SonicPoint AC Series of wireless access points, which supports the high-performance IEEE 802.11ac wireless standard to deliver almost three times that of the last wireless standard (802.11n). SonicPoints combine with industry-leading deep packet inspection security from Dell SonicWALL next-generation firewalls to form a comprehensive wireless network security solution. This combination enables small- and mid-sized organisations to leverage enterprise-class wireless performance and security, while dramatically simplifying wireless network setup and management for a low total cost of ownership.
The SonicPoint AC Series includes the SonicPoint ACe, which features dual radio functionality, six removable external antennas, dimmable LEDs and the flexibility to receive power over an AC adapter or 802.3at Power over Ethernet (PoE) Injector, and the SonicPoint ACi, which has dual radios, internally housed antennas, dimmable LEDs and receives power through an 802.3at PoE Injector. This enterprise-level performance enables WiFi-ready devices to connect from greater distances, and use bandwidth-intensive mobile apps, such as video and voice, in higher-density environments with virtually no signal degradation.
The Dell SonicWALL Wireless Network Security solution also offers comprehensive security, easy setup and centralized management.