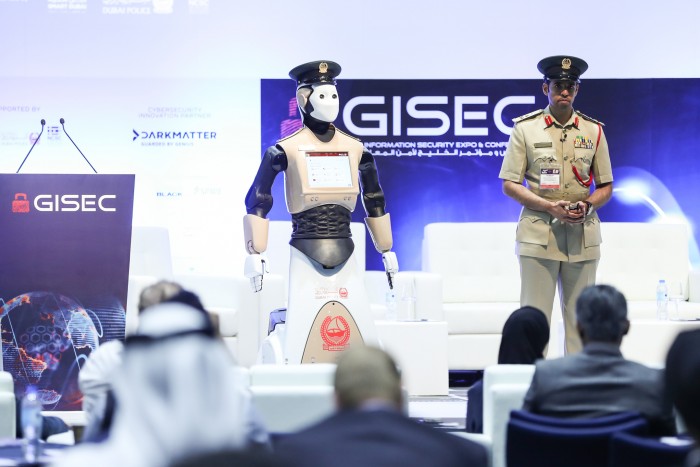 Dubai Police has introduced the "world's first" operational robot policeman, greeting guests at the opening of the 4th Gulf Information Security Expo and Conference (GISEC).
The autonomous Robocop, standing 170 centimetres tall and weighing 100 kilograms, is equipped with an emotion detector, which can recognise gestures and hand signals from up to 1.5 metres away. The Robocop can also detect a person's emotions and facial expressions – whether the individual is happy, sad, or smiling – and has the ability to change its expression and greetings.
When patrolling the streets, the Robocop, which harnesses the Internet of Things, artificial intelligence and the latest smart technologies, can use its facial recognition software to help police officers identify and catch offenders, as well as broadcast live video feeds.
The RoboCop's skills include the ability to map the insides of a building and navigate its path automatically via its self-control and drive feature.
"With an aim to assist and help people in the malls or on the streets, the Robocop is the latest smart addition to the force and has been designed to help us fight crime, keep the city safe and improve happiness levels," said Brigadier-General Khalid Nasser Al Razzouqi, Director-General of Smart Services at Dubai Police. "The launch of the world's first operational Robocop is a significant milestone for the emirate and a step towards realising Dubai's vision to be a global leader in smart cities technology adoption."
With a built-in tablet device, people can complete smart police services through RoboCop using credit cards for payments. RoboCop can also transmit and communicate in six languages, including Arabic and English. Additionally, the robot can chat and interact, respond to public queries, shake hands and offer a military salute.
The robot's integrated system allows it to be linked to various social media channels, such as Twitter, as well as artificial intelligence systems, mobile applications and websites.
Robocop will patrol the halls of GISEC until Tuesday evening, before being deployed in high-density areas of the city.