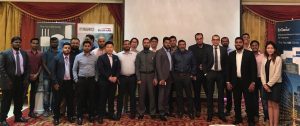 EnGenius Networks, a provider of networking and telecommunications solutions for small and medium businesses, along with regional VAD, Bulwark Distribution, organised a business solution workshop recently at the Royal Rose Hotel in Abu Dhabi.
The event showcased the various solutions offered by EnGenius Networks, shared some of the success stories from various regions and enabled in the recruitment solution partners within the local market. It also included practical demo sessions and technical training on selected products.
Among the key technologies presented by the company were its latest EnTurbo Series solutions and the company's Tri-Band Wireless AC Routers.
According to Van Hsiao, regional general manager, "The aim of EnGenius Networks is to capture a sizeable part of the wireless market-share in the region and be positioned as a strong business solution provider for SMB. In fact, we have one of the industry's most comprehensive portfolio with an easy and simple to deploy solutions with competitive price offerings''.
Jose Thomas Menacherry, CEO, Bulwark Distribution said, "Wireless and network security solutions solve important business challenges, and can bring efficiencies and productivity to the work place. By bringing together the partners, the event created better opportunities for networking, partner recruitment and enablement and provided insight into the EnGenius product portfolio to aid business development and network security."