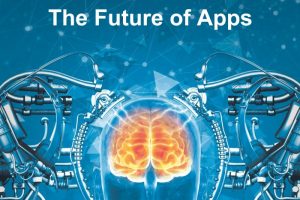 F5 Networks has unveiled a report at its Agility conference in Barcelona on the future of applications, highlighting major trends and projections that will significantly impact society.
The Future of Apps report draws upon research conducted by The Foresight Factory, and was conducted across 25 markets from the Europe, Middle East and Africa region, featuring interviews with leading experts and eminent entrepreneurs specialising in the automation, biometrics, IT and technology sectors.
The report highlights the evolution of artificial intelligence and machine learning, as well as the need for new collaborative models to support heightened transparency demands. It also charts the rise of new app interfaces (including augmented and virtual reality) and the influence of blockchain technologies and edge computing.
"This unique report provides an insightful view into the future of apps and the rapid transition to a powerfully immersive digital and app-centric society," said Josh McBain, Director of Consultancy, Foresight Factory. "Physical and digital worlds are blurring. More than ever before, embedded biometrics and AI will enable humans to take greater control of their personal data. However, these technological shifts will bring significant risks to an increasingly fraught threat landscape, including the dangers of self-replicating AI, autonomous vehicle hacks or the weaponisation of the Internet of Things. We now need to be prepared for when cybercriminals hack the human or even breach the brain."
Conscientious collaboration
According to Foresight Factory, organisations need to quickly adapt and deliver models for proactive collaboration and transparency. The report suggests that secure and consumer-focused data practices could eventually emerge as a benchmark or standard equivalent to sustainability or environmental impact. There will also be significant changes in the power struggle for personal data.
The development of high-profile partnerships will be of critical importance, elevated by the looming influence of AI, machine learning and robotics. Late 2016 saw the formation in the US of the Partnership on Artificial Intelligence to Benefit People and Society. In January this year, the European Commission called for new rules for robotics to map out ethical standards and liabilities related to driverless cars.
Changes are also afoot in the labour market. Foresight Factory figures found that 41 percent of 16 to 25-year-olds believe their current jobs could be supplanted by AI or robots within the next decade.
Optimum intelligence  
Developments in AI and machine learning, meanwhile, are likely to include more personalised, predictive services in areas such as cognitive health. Foresight Factory found that around half (49 percent) of surveyed consumers crave services to understand the future impact of their dietary choices, rising to 57 percent among Gen Y interviewees.
Looking ahead, Foresight Factory flagged critical advances in areas such as collaborative AI, where virtual assistants – and underlying apps – can communicate and act accordingly. The report also highlights a raft of implications from the emergence of AI and machine learning, including their native ability to code and develop apps, as well as evolve functionality when 'live'.
Personal realities
Foresight Factory also predicts that app interfaces will be transformed by the rise of 'mixed reality' and hardware innovation. Location will become irrelevant to many aspects of communication, learning and experience, creating the notion of 'individual realities'. In parallel, new risks will arise as individuals become ever more immersed in their computational existence.
To keep pace, developers need to approach app design with a view to embed or layer into a wider ecosystem. Equally, they need to anticipate new app interfaces that more effectively integrate voice, biometrics and haptics.
"In the future, a new application could very likely be the same as adding a new organ or sense," said Neil Harbisson, Founder, Cyborg Foundation, and the first person in the world to have an antenna implanted in his skull. "Once you merge with technology, you can extend your perception and your senses to give you a much more profound experience of life and of reality. It can change not only how you see your daily life, but also the way that you see the future."
New networks
Foresight Factory anticipates far greater decentralisation as blockchain technologies and edge computing become mainstream, empowering IoT and privacy-hungry consumers. Any momentum in this direction hinges on significant technological advances, including edge computing and 5G.
Research and Markets anticipates that by 2020 blockchain technology and solutions will be used by up to 65 percent of enterprises, with the global blockchain market growing from $210.2 million in 2016 to $2.3 billion by 2021.
The ethos of decentralised apps, or 'dApps', chimes with a growing appetite for peer-to-peer solutions, driven in part by institutional mistrust and a desire for better value.