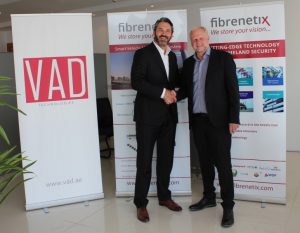 Manufacturer of video optimised servers and storage, Fibrenetix has announced a new distribution partnership with VAD Technologies in the Middle East surveillance market.
Fibrenetix offer a comprehensive range of high-performance video optimised servers and storage for surveillance installations. According to the firm, it offers solutions for the complete spectrum, from small hotel projects with 50 cameras, right up to airport or city installations with thousands of cameras.
Dubai-based IT value-added distributor VAD Technologies has built a comprehensive technology solutions portfolio to cater to the fast-growing physical security market in the region.
Mario M. Veljovic, general manager, VAD Technologies, said, "Over the years we've learned the importance of a solid manufacturer support system. Far too many manufacturers in this industry pay lip service to the issues of product warranty and support. Fibrenetix has stepped up to the plate with an impressive 10-year spare part programme, something that's of high importance to our resellers selling into aviation and homeland security."
He added that the firm is keen to introduce Fibrenetix products that offer "outstanding performance, reliability and ROI" to its partners in the region.
"Their innovative design enables field upgrades and convenient JBOD expandability, making them a solid long-term investment for surveillance customers in the Middle East," Veljovic said.
Jes Nagel, Fibrenetix CEO, said, "Fibrenetix has started a new three year investment plan for the Middle East and Africa region. We are currently taking on more employees and investing in larger offices in Dubai to support our future growth plans in the region. This growth strategy began on 30 June 2017, when Fibrenetix terminated the contract with Sudahakar Suryanarayan and took back control of our business in the region."
Nagel added, "Appointing VAD Technologies as distributor in the UAE is part of our investment plan to streamline our distribution channel, and to guarantee a dedicated and professional channel to service our resellers."
Over the next quarter, we will see the firm launching several new products such as "Great Dane Series, Mobile Vehicle Platform", and will showcase additional products at Intersec Dubai in January 2018.