Dubai, UAE – January 25, 2021: The PC has never been more essential for students and educators. There has been a 46% increase of device shipments for teachers and students over the past year and 66% of teachers expect to continue blended learning even after the pandemic.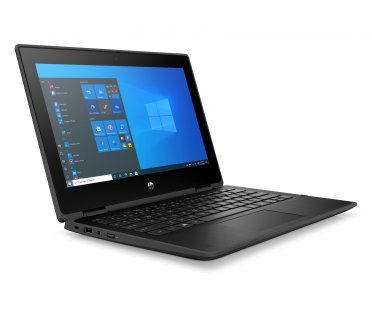 The HP ProBook x360 11 G7 EE embraces the different ways learning happens – whether at home or in the classroom. With a flexible 360-degree hinge and an optional 5 MP auto-focusing world-facing camera, students and teachers can create, capture, and draw whether in laptop, tablet, tent, stand, or book mode. The optional active HP Pro Pen encourages hands-on learning with the interactive touchscreen, and expanded support for USB-C docking allows easy transitions from desk to mobile productivity.
The HP ProBook x360 11 G7 EE also features:
Robust and durable design. Engineered for active students and busy teachers, the device can withstand desk falls, drink splashes, and power cord pulls. It has an anchored keyboard to help prevent keys from being removed, plus metal-reinforced corners and a Corning Gorilla Glass 3 damage-resistant touchscreen for added protection. The device also passed 19 MIL-STD 810H tests plus enhanced education testing to meet durability standards.
Wipeable keyboard and display to promote cleanliness. Sanitisation is of utmost importance in today's learning environments. Tested for 1,000 cleanings, the chassis, keyboard, and display can be sanitised with commonly used household wipes. HP Easy Clean 0 software disables input from the touchscreen, keyboard, and clickpad at the touch of a button.
Fast, reliable wireless connection for remote learning. Wi-Fi 6 and HP Extended Wireless LAN allow learning to happen anywhere, providing more reliability in places with crowded networks – both on- and off-campus.
IT-friendly manageability and security. Make the most of limited IT resources with HP's manageability and security solutions. The HP Manageability Integration Kit easily deploys and manages education devices while HP Sure Sense and HP BIOSphere protect students and teachers from malware.
More tools for the digital classroom. HP School Pack 4.5 is a suite of education software and system tools that supports innovative, collaborative, and engaged learning. ​Additionally, HP Classroom Manager makes it easier for teachers to manage student devices by remotely restricting web and app use, conducting real-time checks for understanding, and checking on student well-being through the private chat function.