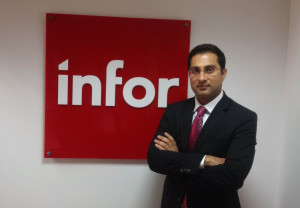 Infor has appointed Vibhu Kapoor as director for partner recruitment and enablement for the Middle East. He will be responsible for the growth and expansion of the partner ecosystem across all the company's products spanning all industries in the region. His appointment is the latest stage of Infor's execution on a plan to invest significantly to grow, expand and support the Infor Partner Network (IPN).
With over 13 years of experience, Kapoor's previous stints included managing enterprise software from partner management and channel sales roles at Microsoft and SAP.
Based in Infor's Dubai office in Media City, Kapoor will be responsible for recruiting and onboarding new partners and further 'enabling' existing partners. The company plans to expand its partner network throughout the Middle East region in the key industries of manufacturing, distribution, supply chain, public sector, healthcare and hospitality.
"Our  partner sales growth in the Middle East is based on Infor providing industry-specific software applications that require minimal modifications and help easily meet the needs of our customers in their specific industries," said Jeff Abbott, Senior Vice President, Global Alliances and Channels, Telesales, Business Development and Field Marketing, Infor.  "Our competitors have created an environment of shipping software that requires extensive, expensive customisation and systems integration work to make the software meet their needs. We understand that customers operate with limited IT budgets, so the Infor approach is to deliver software that works better for our customers right out-of-the-box."
"Kapoor will help Infor to work closely with our Middle East channel partners to drive and our industry focus and align selling efforts. With an industry leading channel program, and disruptive, game changing technology that offers more flexibility at a lower cost of ownership, it's an exciting time for Kapoor to join our IPN team," he added.