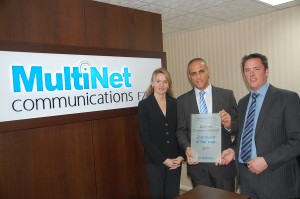 The Dubai-based MultiNet Communications has been named as the best distributor in EMEA region for Corning Cable System.
"A distributor from the Middle East winning this award is a special achievement and we have been working with Multinet for more than three years, which has helped to grow our business in this region significantly," said Baris Kucukay, regional sales director- enterprise networks, Corning.
MultiNet was adjudged as the best distributor based on a number of criteria. "We looked at the distributors and evaluated our partners based on their market access and how much do they value our technology because Corning solutions aren't cheap. So how our distributors portray this value to the customers is really key for us," added Keith Sullivan, Marketing Director EMEA at Corning Cabling Systems.
Corning, a name which is associated with fibre solutions, follows a very limited distribution strategy across the region and has been focusing on the data centre market. "Though we are the leaders in the fibre space, we have also been focusing on shielded copper solutions, and in the data centre space we see a shift toward Cat 6A solutions. We have also launched our EDGE brand of high-density, pre-terminated fibre solutions recently for this market," said Kucukay.
Corning claims to have doubled its revenues in the region, beating the market slump, thanks to the big projects across Saudi Arabia, Qatar and the UAE, especially in the aviation sector.
"We are excited and this recognition gives us the confidence to focus on the quality of services and grow the business  further as the expectations are high. This year we are also going to focus on the Saudi market as well by opening an office," said Mohammed Jeelani, MD of MultiNet Communications.