Mobile and broadband data will continue to drive growth within the telecom sector, even as mobile voice and messaging is witnessing a massive downfall, a recent announcement from research firm IDC said.
There has been a constant decline in revenue earned from voice calls, both from mobile and fixed line, the report said adding that spending on fixed voice services will decline at a -5 per cent CAGR over the next few years and will represent less than 9 per cent of the total market by 2022.
The mobile market, on the other hand, is set to grow at five-year CAGR of 1.2 per cent, driven by increased mobile data usage and expanding M2M applications. This is offsetting declines in spending on mobile voice and messaging services, the IDC report said, adding that mobile data will remain the largest market segment with a market share of 52 per cent by the end of the current year (2018). Broadband data or fixed data services, will represent about a quarter of all revenue earned by telecom operators by the end of the year.
"The fixed data services segment is another positive contributor: it is expected to represent 22 per cent of total spending in 2018 and is set to grow at a 4 per cent CAGR through 2022, largely driven by the need for higher bandwidth services," the note said.
According to the IDC, Americas will remain the largest services market with revenues of $624 billion in 2018, followed by Asia/Pacific with revenues of $541 billion and EMEA with $483 billion.
Trends emerging from the United Arab Emirates indicate the same as both telecom providers Etisalat and du have seen an upsurge in revenue from data both mobile and broadband.
Etisalat's recent quarterly results says the company's consolidated revenue for the first nine months of 2008 was Dhs 39.4 billion, an increase of 3 per cent compared to the same period last year.
Nine month consolidated net profit in the UAE after Federal Royalty amounted to Dhs 6.6 billion, an increase of 2 per cent, compared to same period last year. Its aggregate subscriber base reached 144 million; representing Year over Year increase of 3 per cent.
A breakdown of figures indicated that the revenue from mobile had dropped from Dhs 9.82 billion during the first nine months of 2017 to Dhs 9.49 billion in 2018. Revenue from fixed line on the other hand increased from Dhs 8.198 billion to 8.408 billion during the same period in 2018.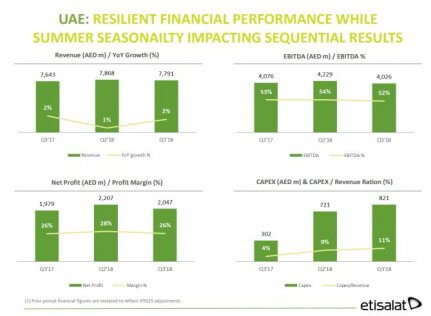 With regards to du, a recent report quoting its said the company's mobile subscribers dropped 3.3 per cent while fixed line subscriptions increased by 5 per cent and the revenue from the latter was up by 7.8 per cent.
Quoting Chief Executive Osman Sultan, the Reuters report said that the fall in prepaid subscribers was greater than post-paid but the overall 3.3 per cent drop was largely due to a government policy to disconnect numbers not used for a prolonged period of time.
The report also said that would focus on increasing fixed-line and post-paid mobile revenue to counter a fall in prepaid customers.
Meanwhile, according to the IDC, telecom operators realise the importance of data and are witnessing a large scale integration of IOT solutions. It is also driving them to invest more into implementation of 5G. "Most operators are now looking to invest in 5G and are struggling with the return on investment given the mature nature of the markets. Success will demand innovative and agile thinking from the operators coupled with some help from regulators in highly competitive markets such as Europe," says Kresimir Alic, senior program manager, IDC Worldwide Telecom Services Database.
Both Etisalat and du have pledged widespread adoption of 5G within the UAE. "As we move into the 5G era, our network and talented teams are well equipped to lead the ever-changing requirements of our consumers and the telecom industry," said Eng. Saleh Abdullah Al Abdooli, CEO, Etisalat Group, following the announcement of the third quarter results.