The smartphone industry is bound to consolidate as the heavy investments required to remain competitive mean that, in the long-run, only a handful of firms can make money, said Huawei Technologies CEO for Consumer Business Group Richard Yu.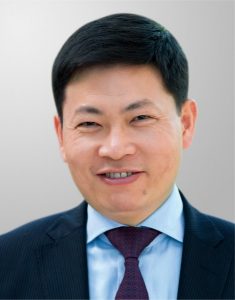 According to Reuters, Yu made his remarks during Huawei's keynote at the ongoing Mobile World Congress. He further said that anyone at this stage in the decade-old industry's history that had less than 10 percent market share was losing money.
Huawei is the world's third biggest smartphone maker, trailing leaders Samsung and Apple, with a 10.2 percent market share in the fourth quarter, according to market surveys from IDC and Strategy Analytics.
"In the future, only three to four vendors can survive, maybe only less than four," Yu told reporters following a product launch event held ahead of the Mobile World Congress.
He said other, smaller Chinese vendors were consolidating, and most would disappear, as they did not have enough resources to invest in the same levels of research and development, marketing and branding needed to gain global scale.
"If your market share is less than 10 percent you cannot be profitable. Over at 10 percent, at least, you can break even (and) over 15 percent you can make money," he said.
He said Huawei's smartphone business grew by around 30 percent in the last year, and would grow even faster this year, with strong growth in both January and so far this month.
Huawei could become the second biggest smartphone maker this year or next, and sooner or later could be No.1, he said, speaking after his company unveiled a new notebook PC and two Android tablets.
It declined to launch a new flagship smartphone as it has done in the past at the Mobile World conference in Barcelona. Instead, it is set to launch its new flagship P20 smartphone at a standalone event in Paris next month, where Yu said Huawei would showcase "big and bold" innovation in camera technology.
The device will compete head-to-head with Samsung's new Galaxy S9 – launched here on Sunday – and Apple's iPhone X.
Looking ahead to next generation mobile networks set to roll out starting later this year in several major markets, Huawei also unveiled 5G versions of a consumer network router, its own chipset for phones.
Yu said Huawei will launch its first 5G-ready smartphone either in the third- or fourth-quarter, most likely in its Mate line of devices.