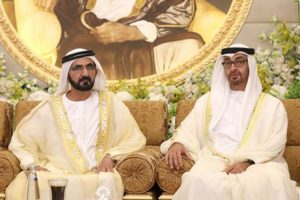 The UAE government has launched its Centennial 2071 project, which sets out a roadmap to its the best country in the world in 54 years' time.
His Highness Sheikh Mohammad Bin Rashid Al Maktoum, Vice-President and Prime Minister of the UAE and Ruler of Dubai, made the announcement on Twitter during a Cabinet meeting held on Wednesday.
He underlined that "advanced" technology would play a crucial role in positioning the UAE as the world's leading nation.
"Brothers and sisters, today we launched the UAE Centennial 2071 project to put in place a vision that extends to five decades and to prepare the nation for future generations," he tweeted.
"The vision is based on the lecture of His Highness Shaikh Mohammad Bin Zayed Al Nahyan, Abu Dhabi Crown Prince and Deputy Supreme Commander of the UAE Armed Forces, for future generations, and the goal is for future generations to live a happier life in a better environment, with bigger opportunities and stronger communication with the world.
"UAE Centennial 2071 is based on four aspects: Education, economy, government development, and community cohesion. The goal is for the UAE to be the best country in the world by 2071. The vision's objectives also include the development of education, with a focus on advanced technology and engineering, and instilling an Emirati moral values system in future generations.
"We have plans up to 2021, and with UAE Centennial 2071 we will have a vision for generations of the next five decades. It sets a clear map for long-term government work. Future generations will need foundations and pre-set tools that we introduce today, there needs to be an environment for growth, and this is something that we should think about from now.
"Rapid changes requires us to prepare future generations with new tools and knowledge, and different skills that enable them to succeed in a world that we will be very different from the times we live in today."