The UAE Ministry of Health and Prevention (MOHAP) has extended its Virtual Doctor initiative to include a COVID-19 online assessment on its website.
The Virtual Doctor can help citizens assess their symptoms through a series of questions, including the person's latest travels, if they've been in contact with coronavirus positive patients, and if they have any of the coronavirus associated symptoms.
Common symptoms listed on the questionnaire include cough, runny nose, fever and shortness of breath.
The assessment tool can be accessed through a pop-up window on the MOHAP website, and includes a specific COVID-19 live chat.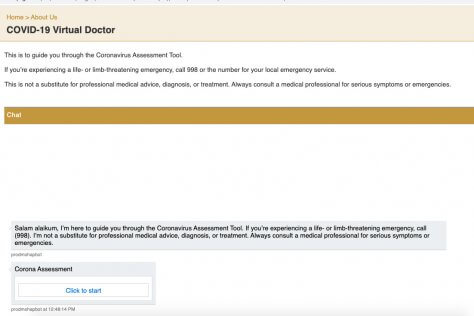 Following the questionnaire, users are told if they are at high or low risk of resulting coronavirus positive. In either case, citizens are encouraged to call the number 800-FLU(358).
This is the latest move from the MOHAP and the UAE government to contain the COVID-19 outbreak. On March 13th, the MOHAP called on senior citizens, both Emiratis and Expats, to stay at home and avoided crowded places to protect themselves against the virus.
Earlier in March, the UAE government also decided to close all schools and educational institutions for a period of four weeks.
Moreover, airport thermal screening has also been installed in malls across Abu Dhabi and customers found to have a high temperature will be redirected to the nearest medical facility for testing.
Last Thursday, government employees at risk, which include pregnant women, the elderly, people of determination and those who suffer of chronic diseases, have also been asked to work from home through a remote work system.
Remote working has been the main focus of many governments around the world to fight the COVID-19 outbreak.
ICT giants, the likes of Google, Microsoft and Avaya, have been supporting this need by offering their solutions for free.
Specifically, Google is providing advanced streaming tools to all paid customers of its G Suite, while Microsoft is offering a free six-month trial of its Teams products.
The UAE has now recorded 98 cases since the beginning of the epidemic, with 23 who have already recovered.