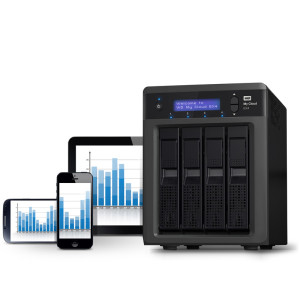 WD has expanded its recently introduced My Cloud family of personal cloud solutions with My Cloud EX4, a four-bay network attached storage solution.
My Cloud EX4 features WD's Red line of hard drives – which are powered by NASware™ 2.0 technology – which feature 3D Active Balance Plus, an enhanced balance control technology.
"The reception for our recently introduced My Cloud personal cloud platform was extremely positive," said Jim Welsh, Executive Vice President and General Manager, Branded Products and Consumer Electronics Groups, WD. "Our single drive My Cloud system is the perfect solution for users that want an easy and private way to store all of their data at home and then share, save and manage it from anywhere in the world, on any device. Expanding our My Cloud platform to a four-bay system delivers the advanced features, customisation capability and capacity that many of our customers are looking for."
My Cloud EX4 provides several capacity options, allowing customers to choose from a drive-less enclosure that allows customers to customise their capacity and add additional drives as their library of digital content grows, or an 8 TB, 12 TB or 16 TB model.
It features Easy-Slide-Drive technology, which WD says allows customers to easily install or hot-swap drives in seconds, without the need for a screwdriver, toolkit or trays.
The device is interchangeable with other forms of cloud storage, and allows users to access their data from any location.