The Registration Authority of Abu Dhabi Global Market (ADGM) signed a Memorandum of Understanding (MoU) with the Emirates Development Bank (EDB) the host and operator of Mohammed Bin Rashid Innovation Fund (MBRIF).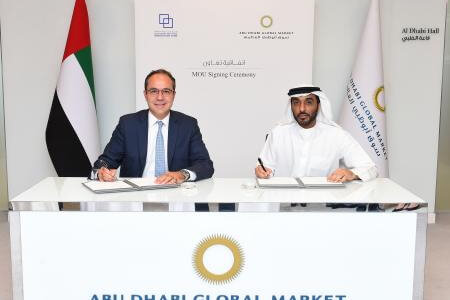 Through the MoU, the parties aim to facilitate cooperation in cultivating local entrepreneurship and innovation.
Dhaher Bin Dhaher Al Mheiri, CEO, ADGM Registration Authority, said, "The region has witnessed strong growth in entrepreneurial ventures in recent years and to keep with that momentum, ADGM has positioned itself as a leading financial centre with an internationally-recognised regulatory framework and an extensive financial ecosystem for supporting the development of entrepreneurs and fostering innovation.  ADGM is excited to collaborate with the MBRIF to bolster opportunities and strengthen support for start-ups and SMEs"
Access to finance for young businesses remains a fundamental challenge faced in the UAE.  Under the MoU, ADGM and MBRIF commit to collaborate on initiatives that will aim to address potential barriers and improve the cost and ease of obtaining bank loans, supporting businesses through their funding lifecycle.
The MoU will also open enhanced channels for MBRIF to directly provide finance to businesses registered in ADGM, and offer support through the application process.
The MoU was signed on 10 September 2018 by Dhaher Bin Dhaher Al Mheiri, CEO of the ADGM Registration Authority and Haytham Yousef Kamhiyah, CEO of Emirates Development Bank.
Haytham Yousef Kamhiyah, CEO, Emirates Development Bank, said, "We are very pleased to be partnering with Abu Dhabi Global Market in our efforts to help entrepreneurs grow their businesses. In line with the UAE National Innovation Strategy, MBRIF was founded to support entrepreneurs and SMEs with unique and innovative ideas that can improve the nation's economic competitiveness and expand its national growth potential. Through this partnership we aim to encourage and support the growth of the startup ecosystem, ultimately making the country a leader in innovation, globally."