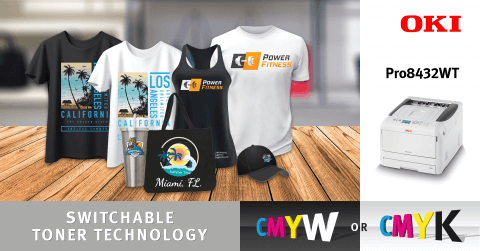 Designed to increase print for profit potential, OKI's Pro8432WT White Toner Transfer Media Printer has received a new update, enabling end customers to switch between white and black toner. This will allow print shops to extend their service offering to printing true black on light colour garments or textiles and materials.
First released in 2017, the Pro8432WT was announced as the 'ROI in a box' A3 printer that allows print shops to profit from garment and product decoration opportunities with low-cost white toner technology in one light, small-footprint device.
The black switchable feature is available as an upgrade to both new and existing Pro8432WT customers. To access this new functionality, customers simply need to purchase the Pro8432WT specific black toner and drum and download the ICC Profile and Custom Media File from their local OKI website.
The compact design of the Pro8432WT means it boasts the smallest footprint for an A3 digital printer while providing unrivalled functionality and performance. From print houses and print clothing shops to creative businesses that captures revenue opportunities by printing high-quality decoration on everything from garments to trophies and signs. With the new Switchable Toner Technology, the Pro8432WT will provide these capabilities, whether printing with white or black toner on dark or light backgrounds on an expansive range of transfer media.
Furthermore, using black toner compared with composite black (mixing Cyan, Magenta and Yellow) ensures true rich black is printed cost-effectively to support creative designs on light media, said the company.
"The Pro8432WT has been incredibly successful since its release in 2017 as a fast and cost-effective alternative to direct-to-garment printing. The concept of this innovative device was to open up new revenue streams for our customers with fast, high quality transfer printing with white toner capabilities in print environments where space is at a premium. Today, the addition of black toner to the capabilities of the Pro8432WT means end customers can widen their revenue streams even further without investing in an additional device," said Shun Mochizuki, senior marketing manager, Specialty Print, OKI Europe Ltd.