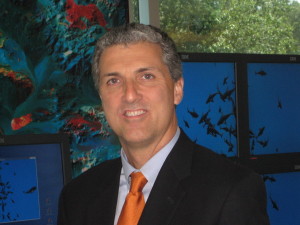 IBM had recently announced the formation of One Channel Team so that partners have access to information and training material from across divisions on a single platform. Reseller ME catches up with Michael Gerentine, Global VP Channel Marketing, IBM, at the company's PartnerWorld Leadership Conference held in Las Vegas this year, to learn more. 
Can you elaborate on IBM's announcement of formation of One Channel Team?
The thought process behind IBM One Channel Team revolves around how we can be more agile and can go faster to market by working with our channel partners. We want to bring simplicity to our channel ecosystem. Therefore, across IBM we have consolidated the channel marketing team for software, hardware and also for the global business partner team. It is now all integrated under the One Channel organisation.
My role is to integrate this team and to be able to work with all the recently announced business units such as cloud, analytics, commerce and security. I head a team that will build and develop channel marketing plans and make it easier for our partners.
The next step is to review the different co-marketing programmes and the various education portals that we have. We want to consolidate and simplify this. We will have a standard portal and set of tools for all education and training programmes. It then goes back to how we can make it faster and simpler for our partners.
How is IBM helping partners to evolve through Business Transformation Initiatives (BTI)?
During my conversations with IBM's Global Business Partner Advisory Council (GBPAC) two years ago, I discovered that partners were keen to evolve and adapt to market trends and tap into profitable opportunities, provided we enabled and supported them. So we built a consultative engaging workshop for business partners and ran about 150 of them. This year, we plan to double that. This is a huge investment on our part and we are now going to deploy this around the world. What we are learning is that, around 34 of the partners that we have met through BTI have on an average increased their revenue by at least 20 percent. And 20 out of the 34 have increased their revenues by 45 percent. This is definitely a working model.
What have been some learnings through BTI?
Most partners do not have a consistent selling model. Therefore, we are looking at these partners from a strategic point of view and at a firm level. Usually, other organisations ask partners how many deals they have done this week or month. Or how many leads they have generated? We on the other hand say, "we want to talk about what you want to be in the next two to three years". Our viewpoint is from a strategic level. We look at how they can grow and be more profitable as a company. We have received positive feedback from partners on this front.
At IBM, everyone is trained on the same methodology and the same approach for sales. We have consistency, which makes it more efficient. Partners are now learning that they too need to have consistent selling models. They have also learned that they are not investing in marketing enough. They need to drive marketing because as they move to the recurring revenue model for cloud, they need to have different make up of their infrastructure and other expenses for marketing investments.
Partners also told us that if we were going to sell solutions, then they need to have a one-stop shop for education and training. This was another learning for us as we had different portals across various divisions of the company. Taking this into consideration, we have also launched PartnerWorld University as a platform for partners to come to for training across all business units. We are going to invest heavily in this area to ensure partners receive the right content.
How are you planning to bring partners the awareness of digital marketing and the opportunities that it can bring to them?
The focus is to communicate that as the market changes, work changes and transformation is required. We need to get our partners to do more digital marketing. Historically, what they like to do is run events, and do basic traditional level marketing tactics. We have now launched IBM Digital Content marketing platform and it is available free for any PartnerWorld partner. We are going to start working with them and have a huge campaign to educate them on how they can do more digital marketing. What we have learned this, if we do the marketing ourselves, we are not as effective as giving the money to our partners and teaching them how to do it. They can then drive the business based on what their core competencies are.
How can partners make that transition to transform to emerging technologies?
Many of our partners are sophisticated but they are focused on one or two different product offerings. We need to move them to a solutions selling model, which has a higher value. And this also means they need to have deeper education. Partners must focus on education and certification.
Also today partners believe only if they focus on all industries and all technology, can they be profitable. They don't want to be excluded from potential leads. However, that's not true. We are getting them to realise that they need to take a step back and figure out what their core competencies are. We are compelling them to make a decision based on their history and strengths. You cannot be everything to everybody. It is all about focus, going deeper and creating a specialty. And it is important for partners to identify the top three industries to be present in as vertical focus is key.
From our perspective, partners are going to see a deeper focus on the business development side because that drives more loyalty. It drives more business for our partners and we make more profits as well.
What are some of the unique aspects of the Middle Eastern channel ecosystem when compared with global counterparts?
When it comes to education, many countries in the Middle East prefer online training, more than North American countries. This could be because of the distance and convenience factor.
Also, the Middle East region is demanding more packaged solutions. Today we sell hardware box, do a cloud offering or individual software, but there is more focus on integrated solutions in the Middle East. Partners want to know how they can package a solution better. We need to leverage our distributors more in this region to enable this. There will be a bigger demand for bundled solutions offerings in the ME region.