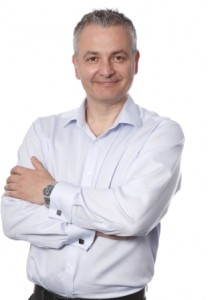 The Middle East currently lags behind other regions in cloud investments, but Ian Harris, Systems Integrator Leader at Ciena, is optimistic of a turn–around.
The Middle East often plays catch up when it comes to next-gen technologies, and the cloud computing paradigm is no exception. Though private cloud implementations have gained stream in the region over the last 18 months, many businesses still remain conservative about shifting their applications to public clouds due to a host of reasons. Is the public cloud really ready for prime time in the Middle East?
"According to Informa, telecoms operators worldwide spent $14 billion on cloud investments in 2011 – 0.2% of that investment took place in the Middle East. That means that the Middle East is lagging behind at the moment, but the region has a record of catching up quickly. For example, when I was in Dubai last time, I noticed that Etisalat was building the region's largest data centre at the moment. I would not be surprised to see the Middle East catch up proportionally," says Harris.
He adds that we will see an increasing interest in cloud computing as enterprises look for better ways to meet the ever growing demand for capacity. "The move to the cloud is all about consumption – as the appetite of consumers and enterprises for data services continues to grow, the cloud offers a better way to manage dynamics of demand. The cloud model is about consuming IT as a service and paying per use. This represents a much more cost-efficient manner of acquiring and providing IT capability."
The cloud often divides opinions and with such a low investment input from the Middle East, it suggests that businesses might not be ready to make the move towards these new technology platforms.
However, Harris explains how the cloud can benefit businesses and why the investment cannot come soon enough. Cloud computing will provide organisations in the Middle East with reliable and cost-effective access to IT infrastructure – improving business processes while reducing costs.
"The promise of cloud service providers is their ability to store, process, and move data – as needed – in remote, virtual environments.  These on-demand deployments of IT resources offer more agility, scalability, resiliency and efficiency than an enterprise organisation could ever accomplish within its own walls."
Harris points out that this often means  local enterprises will be able to own their own data centre for base operations and simply 'rent the spike' – on demand – from cloud service providers when workload demands exceed the on-premise data centre capacity.
Of course it's simple enough to discuss investing more in cloud applications, but every business venture involves hurdles, often very large ones when IT management is concerned.
"There are a number of challenges to the adoption of cloud applications – both emotional and regulatory reasons. Enterprises and government bodies are concerned about their security and therefore reluctant to hand over data to a third party – that's what I call the emotional reason. But there are also reasons connected to regulatory compliance requirements. For example, the financial community is accountable for their customers' data, security and integrity – meaning that they are reluctant to 'lose' control over that data," says Harris.
He adds that the industry has made huge advances in securing data at rest and in flight in the context of cloud services. "Also, cloud service providers are much better placed to meet the moving demands that many enterprises face; they offer higher standards than most enterprises can handle (data replication, audit trails, etc), so it makes sense to outsource. The emotional distrust and the reality of the cloud are two worlds apart – the cloud is a very safe place to be."
Harris says Ciena has been working with the leading service providers in the region to ramp up networks and bandwidth pipes to pave the way to the cloud.
"Ciena and Mobily have announced the Middle East's first 100G network in Riyadh. The demand for bandwidth coming from Saudi businesses is growing steadily due to the rise in and applications like video, teleconferencing and cloud computing. Ciena's 100G technology allows Mobily to meet this rising demand for capacity, while future-proofing its network for the years to come."
Ciena has also worked with Etisalat to upgrade it transport network in the UAE. The new network provides the service provider with a 40G national backbone, carrying packet/IP core traffic across more than 40 locations in the UAE.
Ciena will be one of many Middle Eastern businesses making significant investments into cloud computing over the forthcoming years, which it hopes will the change the face of IT as we know it today.