Mid-March saw Huawei's return to technology showpiece CeBit in Germany, with a booth that engulfed most of Hannover Exhibition Centre's Hall 2. There, they put an emphasis on 'Safe Cities', making it clear that the Middle East is in their sights for a range of new solutions.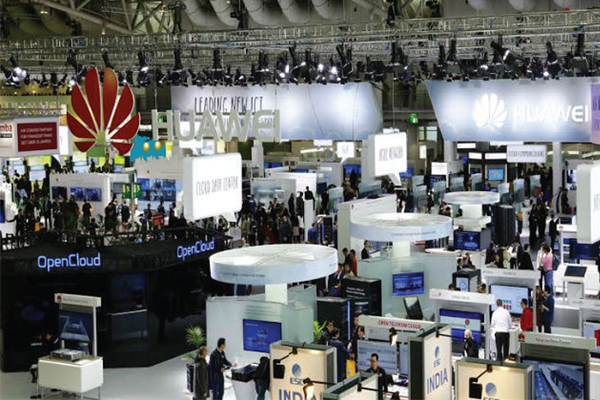 At first glance, governments of the GCC countries will have been intrigued by the prospect of Huawei's solutions portfolio on offer at CeBit 2016.
While most of the leading cities across the region fit the bill of feeling 'safe' – Abu Dhabi, Riyadh and Doha featured in The Economist's Safe City Index 2015 Top 50 – it's impossible to sit still when it comes to the security of citizens.
Huawei executives highlighted the potential of their 'Safe City' solutions during a media roundtable, and it became clear that the Middle East would be a key focus market for the firm in years to come.
There are several core components of Huawei's Safe City portfolio.
The company's Converged Command Centre solution converges IP contact centre, computer-aided dispatch, videoconferencing and telepresence into a centralised operating picture for visbility and accessibility.
The Cloud-based Intelligent Surveillance Solution provides video content analysis and cloud-based video recording.
Perhaps of most interest to the GCC will be the Smart Road Safety solution, which offers automatic number plate recognition along with the ability to clock driving offences such as speeding, red light running and illegal turns.
Powering these technologies are Huawei's 4G/eLTE Mission Critical Broadband Trunking solution, which provides a "mission-critical" wireless broadband network for front-line responders.
Meanwhile, its Agile Network solution provides connectivity from the command centre to the field via either WAN, LAN, microwave, LTE or GPON networks.
Huawei has been at pains to stress the importance of its portfolio, in line with the launch of its Connected City Light solution.
Joe So, Chief Technology Officer, Industry Solutions, Enterprise Business Group, used examples of Huawei's work in the GCC and East Africa to highlight the purpose of the services.
Implementing a Computer-Aided Dispatch system, broadband trunking eLTE and video surveillance systems in Nairobi, Huawei claims the additions led to a 46 percent drop in crime rates in the city, as well as a 75 percent drop in incident response times. So highlighted how the visit of Pope Francis in November was met with no injuries or incidents as a result of the solutions.
"Having a system that allows for better management of the police force has been transformative for Nairobi," So said. "Would-be criminals are more likely to be deterred when cameras and surveillance systems are in place, and, crucially, citizens feel safer knowing they are there."
So went on to highlight how Huawei had helped Saudi Arabia to converge its emergency services contact numbers, as well as building the infrastructure needed for a command centre.
"This has unified security agencies so that officers can be more efficiently dispatched," So said.
He underlined the solutions as having the potential to tackle specific problems faced by governments across the Middle East.
"Every government that I meet has different demands, expectations and priorities. Turkey, for example, wants to address civil unrest, while Dubai is concerned about reducing speeding offences. Our solution relies on a collaborative and open ecosystem for customisation on top of what we offer."
A key aspect of Huawei's Safe City initiative was the launch its Connected City Lighting solution. Swift Liu, president of switches and enterprise communications, highlighted how lighting consumes 19 per-cent of the world's energy supplies, and a solution was needed to reduce this relative waste.
The multi-level control solution connects street lamps to lighting management applications via Huawei's Agile IoT Gateway and Agile Controller, and adopts a GIS-based management system, using 6LoWPAN to automatically diagnose, network, and trouble-shoot problems.
Huawei also made its presence felt in a number of other industries, signing a memorandum of understanding with robot technology firm KUKA, to develop smart manufacturing solutions for industrial markets in Europe and China.
Under the new agreement, the firms will collaborate in the areas of cloud computing, Big Data, mobile technology, and industrial robots.
Research and development will be central to the new partnership. Key areas of R&D include the use of small cell Internet of Things, wireless and 5G networks, as well as Big Data solutions in manufacturing and factory environments.
The deployment of Huawei's infrastructure-as-a-service solutions will be used to develop cloud-hosted smart manufacturing services. In addition, KUKA and Huawei will set up a joint robot programming team to explore the use of imitative deep learning in advanced manufacturing environments.
"The manufacturing industry is undergoing profound transformation, and robots will be critical in revolutionising factories and driving new opportunities," said Ryan Ding, executive director and president of products and solutions, Huawei. "KUKA plays a central role in promoting and developing smart manufacturing solutions in Germany and across the world. We're confident that our strategic partnership with KUKA will enable Huawei to lead the way in helping global manufacturing enterprises transform their factories and gain significant competitive advantages from realising smart manufacturing."