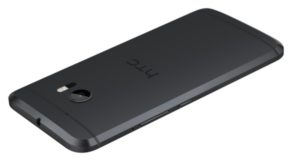 HTC has unveiled its latest flagship smartphone – HTC 10. The latest addition to the HTC phone family combines an enhanced camera with gold standard audio, bold new metal unibody design and great performance, according to the company.
The new device's design is inspired by light and has bold contours carved out of solid metal. The chamfered edges boast a slimmer look with its full glass front merging seamlessly into the metal body. It also features an integrated power button and fingerprint sensor with better sound quality.
According to the company, the new smartphone features world's first optically stabilised, larger aperture f/1.8 lenses on both the front and rear cameras, new larger sensors, 12 million new generation UltraPixels (1.55um per pixel), faster laser autofocus powering the main camera and a wide angle lens and screen flash on the front UltraSelfie camera. This allows the smartphone to deliver sharp, low light and high-resolution photos whether behind or in front of the lens.
Speaking exclusively to Reseller ME, Nikitas Glykas, President, MEA, HTC, said, "HTC 10's camera and audio are best-in-class. Together with all the features including longer battery life, quick charge and high-res audio, we truly have the best proposition in the market today. Innovation is what we stand for as a company. We will continue to drive our smartphone business in the region."
The HTC 10 combines vivid 4K video with the world's first stereo 24-bit Hi-Res audio recording, capturing 256 times more detail than standard recordings, across twice the frequency range. Built for audiophiles, the HTC 10 is certified for Hi-Res audio and has been designed to make music sound the way that the artist intended
The device boasts the latest Qualcomm Snapdragon processor with enhanced 4G LTE.
The HTC 10 also includes the latest in-box quick charge 3.0 Rapid Charger with improved thermal management, so the battery can be charged by up to 50 percent in just 30 minutes.
 By reducing the number of duplicative and pre-loaded apps and bloatware, and integrating the best of both HTC and Google, the company has created a more streamlined phone that enables customers to decide what they want on their handset.
The HTC 10 offers an all-new Ice View case with a semi-transparent and highly versatile single front-cover case. So when that next call or message comes in, or when you need to skip a track, or snap that perfect shot, you can do it without even opening your smartphone's case.
The HTC 10 will come in two variants with different Qualcomm Snapdragon processors to cater for different market needs. They will both offer the same design, audio, camera and display, with a similar software experience and battery life.
The HTC 10 comes in variants such as Carbon Grey, Glacier Silver, Topaz Gold and Camellia Red.
The smartphone will be available at leading retailers from early May 2016.  The HTC 10 will have initial operator exclusivity with Etisalat in the UAE and STC (Saudi Telecom Company) in KSA.