Huawei recently hosted its Partner Summit 2016 at Dubai's Madinat Jumeirah, where it announced the latest developments in its 'Transforming together' strategy for its Middle East partners.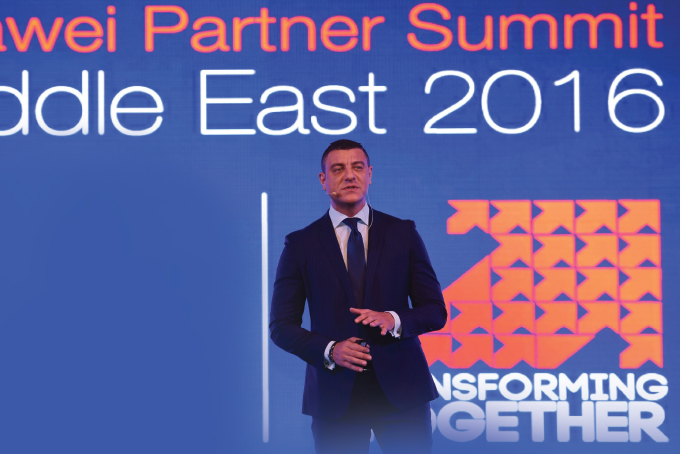 For Huawei's Middle East Enterprise Business Group, two is company. The firm's  executives reiterated the company's commitment to building an ecosystem of partners that shares their vision of continuous ICT innovation at its annual Partner Summit conference for channel partners. The updated  strategy, now dubbed  'Transforming together 2.0' by the vendor, is centred on developing strong and collaborative partnerships to help end-users gain maximum value out of its solutions.
Hany Hussein, Vice President, Channel and Alliances, Huawei, Enterprise Business Group, Middle East, said, "Transforming together was a concept that we created last year. With this strategy we aim to expand our market reach through our partners including our distributors, global partners and solution partners. In 2015, we have been focused on growing our partner ecosystem, and this year, we have made a few amendments to our partner portfolio to ensure that we have the right companies on-board to penetrate the market in the right way."
According to Hussein, Transforming together 2.0 is about the importance of having a focused business. "As a global company, we'd like to see our partners grow with us," he added. "To do this, we want to have a more defined strategy, so we want to  interact with the top players in the industry while also reaching out to small and medium-sized businesses."
Through its enhanced strategy, Huawei also intends to make sure that  all its partners represent the right value propositions in accordance with their capabilities and target verticals. "Last year, we worked on enabling our partners to have a strong foundation for selling Huawei solutions, now it's time for them to build the pipeline," Hussein said. "It's time for them, as Huawei partners, to expand our reach in the market. Our core aim this year is establishing a partner-led business."
Hussein also highlighted the  key methods through which  Huawei plans to realise its 'Transforming together 2.0' strategy. The new drive has five key pillars: growing through a partner-led business; empowering channel sales managers; enhancing partner profitability; improving vertical industry focus; and selling new ICT solutions. "In addition to these, we want to emphasise that having the right training is not enough to sell Huawei products and solutions, it is vital that our partners get the right certifications to do so. It is important to us that our partners represent Huawei in the right way. They need to have the right identity and share Huawei's success DNA."
Huawei also underlined its strategy to embrace the digital era of the Internet of Things, introducing  its latest IoT Single-Cable solution to its product portfolio. The  solution, according to the company, will pave the way for the creation of smart office environments. Huawei also announced the latest addition to its IT portfolio – the OceanStor DJ –  a solution equipped with a unified storage system and unified storage resource management. Both offerings build on Huawei's existing portfolio to enable businesses in both the SME and large enterprise market.
The company also emphasised  its newly launched initiative, 'Leading new ICT, building a better connected world,' which was announced earlier this year during the renowned CeBit conference in Hannover, Germany. According to Huawei, the initiative is designed to facilitate the evolution of traditional IT architecture of enterprises into cloud-based architecture. It is a combination of technologies including cloud computing, Big Data, IoT, 5G and SDN that features cloud-pipe-device collaboration.