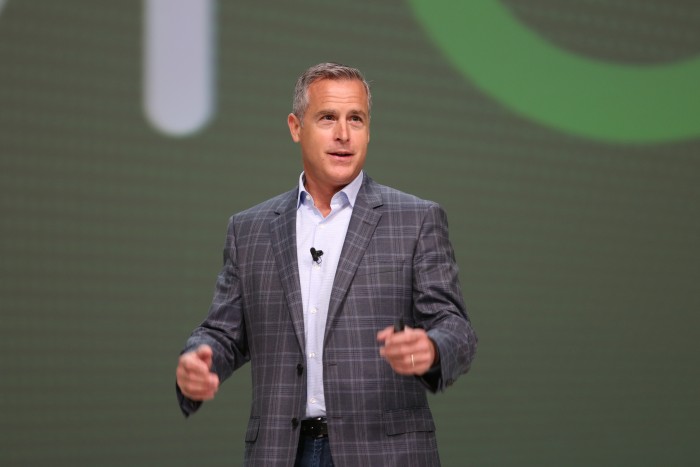 "It was the best of times, it was the worst of times." Veeam's newly appointed co-CEO Peter McKay got the third edition of VeeamON underway by equating the current business environment to the famous opening line of Charles Dickens' A Tale of Two Cities.
"If we take advantage of the disruptive opportunities in front of us, it is certainly the best of times for agile companies," he said. For firms who fail to adapt and consequently become irrelevant to customers, meanwhile, it will be "the worst of times."
Veeam, too, has ambitious goals in the pipeline, yet it remains to be seen if it will be facing the "best of times" in the coming years.
Established a decade ago, co-founders Ratmir Timashev and Andrei Baronov launched the company in Switzerland, with a monitoring tool for VMware as its first product. Veeam backup and replication was introduced soon after, which eventually led to the release of its flagship offering, the Availability Suite.
CEO McKay kicked off VeeamON by framing the need for robust IT systems before any ambitious projects can be attempted. "User confidence is only possible through business continuity and availability," he said. "We are playing a part in enabling customers to not only survive, but also drive their digital transformation initiatives."
One of the big talking points of VeeamON was the firm's announcement to strive towards the $1.5 billion revenue mark by 2020. Having closed 2016 with revenues of $607 million, the company has established a target of $200 million growth each year to hit the $1 billion mark by 2018, and subsequently hit $1.5 billion over the next three years.
McKay will take on this task with a four-pronged approach. Aside from listening to customers and attempting to gain a "thorough" understanding of their businesses and challenges, the company aims to build a "world-class team, expand into cloud and leverage the partner ecosystem."
"Our priorities are to understand our customers' business, transform how we transact and evolve ahead of the market, ensure innovation in everything we do and elevate how and what we sell," he said. "We are investing aggressively in the enterprise."
Veeam's regional director for the Middle East, Africa and SAARC region, Gregg Petersen, believes the revenue target may not be too ambitious.
"Veeam invests heavily in terms of the percentage it puts back into R&D," he said. "Our driving factor is not the date of a release but the performance of the product. And we are known for this within our customer base."
The main challenge that the company will have to overcome in order to attain its objective will be capturing larger enterprise customer accounts, according to Forrester senior analyst Naveen Chhabra. He said, "Enterprise accounts will not only bring them one-time customers, but also recurring sales. Veeam has a strong, loyal customer base that pays and renews the supporting contracts, but volumes are not high. Veeam directly handles very few billion-dollar transactions.
"This is where the company's alliance partnerships with firms such as VMware, HP and Cisco, will play a key role."
Veeam unveiled several new products and shared updates on its current offerings at the event. However, according to Petersen, regional CIOs should be most excited about the cloud updates and the features in the new Availability Suite v10 such as Continuous Data Protection and built-in management for Agent for Linux and Microsoft Windows.
"CIOs are looking for solutions that help deliver their services seamlessly and progressively," he said. "Another aspect that they are now demanding is solutions around risk mitigation."
Another takeaway from the event was that the firm's leadership greatly believes in the need to keep evolving. McKay said, "We are choosing to adapt to the market evolution at a time when business is going great for us."
Organisations across the world are beginning to understand how critical it is to have their services and data available 24/7. Availability issues can leave permanent damage to a brand's reputation and negatively impact more than just bottom line. A case in point is the massive systems' outage British Airway recently experienced. Customers were stranded for days, with the airline's operations grinding to a halt.
How Veeam moves forward will make all the difference to whether it endures the best or worst of times.
"I knew Veeam was going to be big but didn't realise it was going to be this big," co-founder Timashev said. "I am confident that our future is bright. We know where to take the company over the next five years."
Resurrection and transformation is a recurring theme in Dickens' novel, and while the road to the $1 billion mark is bound to be one riddled with hurdles, it is safe to say that Timashev will be enjoying the "best of times" as long as the firm's leadership doesn't cease to evolve with market demands.