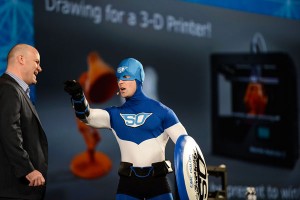 There may have been a few people who spat out their coffee the morning they read that EMC had unveiled what it called the "world's first" software-defined storage platform, EMC ViPR.
Software-defined storage as a term in itself is not new in the industry, and neither are solutions that tout themselves as just that.
However, the basis for EMC's claim stems from the definition of software-defined storage, which is something that is yet to be settled among the industry's elite players that are all trying to be seen as leading the new paradigm.
The term rose to prominence as an ingredient of what VMware called the software-defined data centre (SDDC) at its annual virtualisation conference, VMworld, last year. An SSDC is a data centre in which the entire infrastructure — networking, server, storage and security — is virtualised, automated and managed by software.
The storage element is significant because, with an inflection point in the industry appearing imminent, those vendors that get it right will be securing a sizeable chunk of the market.
According to the man behind EMC's delve into software-defined storage, Amitabh Srivastava, President, Advanced Storage Division, every attempt at defining it up to now — including EMC's — has been wrong.
"Everyone is defining software-defined storage in their own way," Srivastava told CNME at EMC World 2013 in Las Vegas, where the platform was launched. "Because there is currently no fixed definition of it, a lot of them are taking an appliance that was built a few years ago and, just because it runs software and there are hardware intervals running on a virtualised system, they're calling that software-defined storage.
"I don't think so, because software-defined storage is all about building it for the cloud and the software-defined data centre. It's not about a single array; it's about an entire storage infrastructure which is highly scalable and available, because that's the end goal.
"That is why ViPR is really designed with the goal of how it can take your storage infrastructure and arrays to this massive cloud infrastructure that can plug into this software-defined data centre. None of these systems are even talking about any of the stuff we are talking about."
In any device, the data path is where the data comes in and out of the array, and the control path is used to really manage the arrays.
According to Srivastava, all previous systems claiming to be software-defined have been built first of all as an appliance, and always in the data path.
ViPR manages both planes and decouples them from each other to allow them to be used together. Customers can also use only the control plane to manage the underlying intelligence of the storage arrays through policy-based automation, which EMC called a "radical departure" from prior attempts to virtualise storage.
"We looked at all the systems and approaches of the past, and realised that putting in the data path is not the right architecture if you are really trying to go to the cloud," he said. "What ViPR does is decouple the control path and the data path, and it is the only one that does that.
"By decoupling it, if you just want automation, you can just do it with the control path and you don't have to mess with the data path. We believe this is a requisite for a truly software-defined storage platform because, when you virtualise, you have to preserve the value of the underlying arrays."
Srivastava also claimed that previous systems have not been built as a highly distributed and scalable architecture, which means objects cannot be built on top of it, another important aspect of software-defined storage.
Built for volume
ViPR is designed to deal with the vastly growing data by allowing enterprises to drive towards the operational model of Web-scale data centres without having to hire thousands of technical experts to build a custom environment.
The platform offers the ability to view objects as files, and provides file access performance without the latency inherent to object storage. It also provides the capability to be implemented entirely in software, and will run against EMC, non-EMC and commodity hardware.
EMC is essentially trying to do for storage what VMware has already done for servers — abstracting, pooling and automating the infrastructure.
First and foremost, EMC ViPR is designed for cloud environments, and specifically service providers. However, the company is also touting ViPR as suitable for the many enterprise IT departments that are transforming themselves to offer IT-as-a-service and building out their own internal Web-scale clouds.
Whether EMC's definition of software-defined storage is what the market wants will only be determined by the customer response, but Srivastava said he is confident he and his team have got it right this time.
"We are so confident it will be our definition because nobody knows storage better than us, nobody knows enterprise better than us, and nobody knows cloud better than us," he said.
"We are the only ones looking at the problem holistically, and really trying to get to the places where we can add value to the customer, who save lots of dollars because their management and operation costs are going down, and they are being provided a path to the cloud. That's why we are confident we will succeed."
Should software-defined storage catch on, as many predict, Srivastava identified the Middle East as a region where CIOs can now jump ahead in storage innovation—if they're willing to take the opportunity early.
"Whenever industries are at an inflection point—as the storage industry is now with the emergence of software-defined storage—there is a major opportunity to leapfrog," he said.
"So I think many Middle East CIOs will be thinking why they should build a traditional IT infrastructure when they can leapfrog and build a software-defined data centre from the get-go."