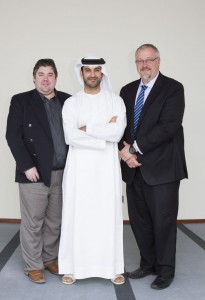 In 2009, DP World in the UAE decided to set up its own IT department separate from the shared services the global organisation operates. But with the inheritance of systems and technologies came the realisation of inconsistencies and redundancies. It turned to an enterprise architecture (EA) tool to obtain a complete view of its IT.
In the short period of time since DP World was formed in 2005, the organisation has grown to one of the largest ports operators in the world, with a portfolio of over 65 terminals across six continents and a staff of 28,000.
For years, the IT operations of DP World in the UAE were supported by the ITC (Information Technology Centre), the IT back bone for DP World's parent company, Dubai World.
However, in 2009, DP World UAE decided to set up its own department to be responsible for all IT functions, and thus be independent of the ITC.
With this transition came immediate challenges, explains Ibrahim Al Najjar, Manager, IT Planning and Support System, DP World.
"When we started to deploy our IT, we inherited many services, systems and technologies, but we did not really have a proper view of the whole picture and how they inter-relate," Al Najjar says. "We had inconsistencies, redundant systems doing the same things, and systems using different technologies that were not coherent of what we wanted in the future."
In order to achieve such a view across its entire IT functions, DP World wanted to define its enterprise architecture (EA) and identify all the components that made up its IT services.
Furthermore, the organisation had many initiative in its roadmap for the future, which required a clear understanding of what was happening across its IT so it could build on top of it.
This need for DP World to know its EA inspired the decision to implement a relevant tool, thus signalling a selection process to find the right vendor for the project.
"We followed our normal procurement process where we tender it out to multiple vendors with our requirements and then we review their proposals, and go with whichever fits our requirements technically and commercially," Al Najjar says.
Following this process, the contract was awarded jointly to Orbus Software and its Middle East partner, HTP Global Technologies. The chosen solution was Orbus Software's iServer Enterprise Architect with TOGAF 9 'out-of-the-box' accelerator and Application Portfolio Management (APM) extension.
"We went with Orbus mainly because they met our requirements and the proposal from them offered us the least transition from our current practice because they use the same tools we are familiar with," Al Najjar explains.
From negotiation and procurement to implementation, it took a couple of months, but the tool was just one stage of the whole exercise. Before that, DP World did an intensive study, which was not with Orbus, to identify all the components of its architecture.
The tool itself went live at the end of 2010, which Al Najjar says was a smooth implementation because the initial work was done.
"We used the TOGAF framework and since the tool supports these standards, it was a straightforward implementation. By using iServer and this deliverable-based approach, DP World was able to capture, visualise, socialise and manage its baseline EA information in a central architecture repository and collaborative environment in less than 12 weeks."
DP World also acknowledged that establishing a trained and experienced EA workforce takes time. In parallel to arranging relevant training and certification courses for DP World staff, support and guidance to collate accurate information quickly was also necessary.
DP World has seen direct and indirect benefits since implementation, Al Najjar continues, but the biggest of all is the clearer view his team now has on DP World's continuous improvement and future development.
As a key example of this, the organisation is now developing Jebel Ali Terminal 3 with completely different operation models than what is currently has. Subsequently, it needs to redefine its standards, operations and procedures, and the systems and components it requires.
To design that, it needs to build on top of what it has, which is where EA comes in.
"This EA saved us a lot of time because we already have it in place," Al Najjar says. "We just took that and from there we designed a new model for our operation.
"For us it was just one step forward towards our initiatives, but if we did not have EA in place, it would have been a massive exercise."
DP World's implementation of an EA tool stands out in the Middle East, where the technology has been lacking in awareness and understanding.
Al Najjar believes this is because the topic is broad and, to a certain extent, can be abstract to people.
"What it helps and serves is not just in one thing, but in many different aspects," he says. "EA can be a document or a foundation platform for you to build your future plans.
"It's like something that allows you to write a strategy — you want to grow and achieve things and expand, but it's not going to be possible if you do not have properly planned support. That may be what's causing the confusion about EA — people don't see the whole cycle. They don't see what other things they can do by implementing an EA tool."
Gaining traction
Whilst many anticipate the technology to gain significant traction in the Middle East, DP World is not the only firm to embrace it so far.
Ooredoo, the exclusive telecommunications provider in Qatar, and Abu Dhabi Health Services Company (SEHA) are also early implementers of EA in the region.
Steven Leslie Green, Assistant Director IT Architecture and Applications, Ooredoo, says current architectures are "accidental".
"Accidental architecture evolves over time into a complex, costly, difficult, and slow-to-change information systems architecture, which has to react to changing priorities and strategies," he says.
"The vision is a coherent set of standardised building block-based business processes, applications, data and infrastructure, intended to ensure quality and predictability of core transactions, along with flexibility, agility and efficiency."
Joseph Foster, Corporate Enterprise Architect, SEHA, calls silos of processes, tools, data, and more importantly, knowledge, the "enemy within" for many large organisations.
It is the enterprise architect's responsibility, he says, to break down those barriers, put existing resources to efficient use, and to build new services and infrastructure that could be leveraged by different verticals.
"Every large organisation, by the virtue of being an enterprise, has some kind of architecture," Foster says. "More often than not, this default architecture is scattered, less efficient and not well understood — at the very least, implicit.
"A well-run EA practice will make this architecture efficient and explicit. They will make the interdependencies and relationships among various systems and verticals more visible."