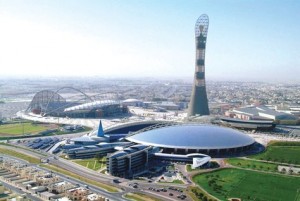 Qatar is looking to build its future around being a world-class sporting destination, with technology a vital enabler in the journey. As a hub to that vision, the Aspire Zone implemented enterprise content management (ECM) to boost efficiency and support its business continuity planning.
If you've been to Qatar, you'll recognise the Aspire Zone, or Doha Sports City, as it's also known.
The 250-hectare sporting complex has become somewhat of a landmark for a country that is trying to grab the world's attention through the power of sport.
It did just that at the 2006 Asian Games, which most of the Aspire Zone's venues were constructed for, and Qatar will do it again on the grandest scale of all when it hosts the 2022 World Cup.
But while sport acts as the catalyst to increase the global awareness of destination Qatar, technology is, as always, the silent enabler to help make this happen.
One area where Aspire Zone turned to technology was with its content, which was unorganised and scattered.
"Basically, content is of two types," says Niyas Abdulrahiman, Chief Technology Advisor, Aspire Zone. "One is correspondence in the form of letters, faxes and memos coming into the organisation.
"When it gets distributed to concerned departments, it starts multiplying. It's a nightmare to track them because one document gets multiplied into several copies, so there is no consistency.
"Secondly, the user can generate a lot of content in terms of Word documents, Excel files, day-to-day work, and they store it wherever they like – sometimes USB drives, sometimes local drives. The challenge is there is no visibility. When people leave, it creates serious business continuity issues because there is no way to track which of their emails or files are important and where they are stored."
In short, the Aspire Zone needed to be more productive and efficient in the way it handled its documentations, as well as to support its business continuity planning.
Furthermore, the organisation was in the cusp of a merger, bringing together three formerly separate entities – Aspire Academy for Sports Excellence, Aspetar Qatar Sports Medicine and Orthopaedic Hospital, and Aspire Logistics. Such a merger meant a global view of content was even more necessary.
If that wasn't enough, a mandate straight from senior management confirmed it was time to implement ECM.
The lifecycle of ECM starts with the digitisation of a document, whilst metadata is also placed on that document to describe it. The document is then converted into the proper character format to make it discoverable, before the phase of annotation and workflow. Then comes the retrieval of the same document based on the organisation's needs, and then finally archival and expiry specification.
"When we looked at different content management solutions in the market, we found that most of them do the same thing," Abdulrahiman says: "All of them have standard features. There is not a lot of innovation that is happening around ECM because it is a matured technology and has been around for several years."
Whilst the features are the same, the way it is done is different, which meant that usability became the key factor in the Aspire Zone's choice of ECM vendor.
"We created some use case scenarios and asked every vendor to come and demonstrate these scenarios. We then asked the users to evaluate how easy or difficult they found it. Based on that, the user feedback we received was in favour of Laserfiche."
Unified enterprise
With Laserfiche Rio needing to be implemented across the three aforementioned business units as a unified solution, it meant that each unit took around two to three months, before finally going live across the enterprise in June 2011.
The biggest challenge, Abdulrahiman says, was the lack of awareness amongst the users.
"Users have no problems with their papers. If you try and sell ECM to a user who is putting his Word documents in the place where he likes, what do you tell him? That we want to organise his documents and put it in one place so if he leaves we can run the company and minimise the impact? So it is always a challenging situation."
To overcome this challenge, the IT team conducted a series of awareness sessions to explain to the users why the solution was required, how it would help them, and to address any fears.
"We had to create that awareness to explain this was to help them and make things easier for their organisation," Abdulrahiman says.
As well as educating them through the sessions, the team was also keen to let them think they were driving the customisation of the solution.
"One of the senior directors said there were no issues and it all ran smoothly because we drove it. To me, that is a very important statement because the users thought they were driving the product, so we were able to take into consideration cultural and behavioural perspectives on what they were expecting, and customise the solution based on that."
Almost two years on from the go-live date, the Aspire Zone is confident its investment paid off, which Abdulrahiman was happy to state as he spoke for Laserfiche at the Gartner Symposium in March.
After taking the total number of documents in the Laserfiche repository and averaging how many times it would have multiplied – looking at one document as multiplying at least 10 times – the Aspire Zone came to a rough count of half a million papers that would have been created had it not digitised.
"This is the measurable value, but the non-measurable value is the productivity because now users are able to collaborate better, they are more efficient, and there is better transparency," Abdulrahiman says.
"It has absolutely lived up to our expectations. People are clearly very happy using the system – they are using it on a day-to-day basis. What we had with Laserfiche was more of a partnership than a client and vendor relationship. We created something very unique, and got good support from ITQAN, our local implementer, as well as the Laserfiche team."