With over 20,000 employees on its books and an increasingly international sales team to support, Saudi Arabia's alfanar knew it had to think outside the box to drive best practices – and sales volume. CIO Marco van de Sandt has built the foundations of technological change at the engineering and manufacturing firm, which is now reaping the benefits.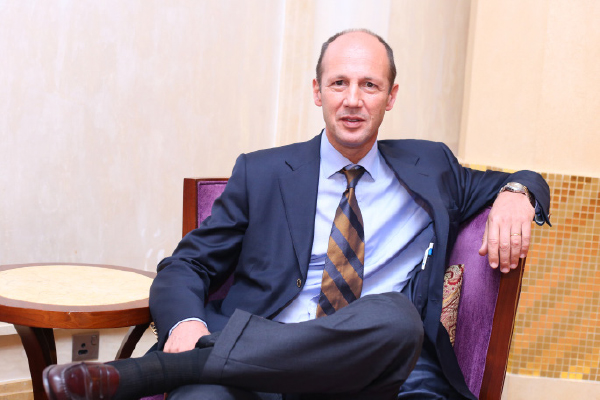 With annual revenue approaching the $3 billion mark, alfanar is a household name in the electricity business in Saudi Arabia. The firm's IT operations are centralised, but has engineering back offices in Pakistan, India, Egypt and Portugal, with manufacturing subsidiaries in Ankara, Dubai, Frankfurt, London and Bilbao.
The company has three main lines of business: its construction and engineering arm, its manufacturing works and its building systems division. The former comprises the construction of power generation and water treatment plants, with power giant Saudi Electricity Company one of its major clients. alfanar Electric, meanwhile, is the industrial arm of the company, manufacturing a variety of low, medium and high voltage electrical construction products, including panels and sockets.
Although alfanar had built a formidable reputation across its portfolio, the firm's scale gradually brought complexity into the IT department. The company began to expand across a range of geographies, and business demands became round-the-clock as alfanar had to account for operations across time zones. "This included the Saudi weekend," van de Sandt says. "Orders could be placed at 4am so we needed the business continuity and IT services to ensure things ran smoothly. From an operations point of view, IT became critical for the company."
He believes the sales process took on the greatest importance in this shift. "It's absolutely critical that salespeople can process orders as efficiently as possible," he says.
van de Sandt adds that basic administration errors caused wider problems for the company. "There was a time where what was happening in terms of our operations was not logged on the system," he says. "Goods could have been distributed but the system said they were still in the factory. Actions were not being logged by staff, and, as you can imagine, this caused us problems."
In 2010, van de Sandt sought to enhance alfanar's processes by introducing SAP to its environment, rolling it out to all divisions and affiliates with the exception of certain foreign acquisitions. The changes have ultimately been successful for the company, but brought a selection of growing pains.
"In terms of IT, there are three major challenges that tend to arise in any large organisation," van de Sandt says. "Firstly, change management is an issue because you have to change the way that people think and adopt new systems at work. You have to convince them that best practices are also in their interest. Secondly, master data drives everything behind the scenes. If you start with bad data, then it's difficult to clean. Thirdly, end users need to be constantly trained."
As if these hurdles weren't enough to overcome, van de Sandt also had to contend with staff members who were resilient to changing their working habits. "The general attitude among certain staff was that things had always been done a certain way, so it made sense to continue in the same fashion."
He also had the responsibility of managing input from a number of other senior figures within alfanar. "In order for the project to be successful, we needed to ensure that stakeholders were aligned, and that the business was committed to making this a success," he says. "Business projects need input from a CPO, CHRO and CFO amongst others, and these figures all shape processes and determine whether or not things are successful."
Several years down the line, and the implementation has proved to be a success for alfanar, the company scooping the 2014 SAP bronze quality award for the Middle East North Africa region, and the technology vendor's 2016 gold quality award for the Middle East and EMEA regions.
In 2012, Arab News reported that alfanar had become the first company in the Middle East to receive three ISO certifications for IT Service Management (ISO 20000), Business Continuity (ISO 22301) and Information Security (ISO 27001) – collectively known as the Integrated Management System.
The company is also "progressively" moving a series of its applications to the cloud, including its HR, sales and operations, procurement and its CRM "in phases". "Business needs to focus on process enhancements and automation, not running data centres," van de Sandt says of his motivation to move to cloud. "It's not sustainable for us in the long-term to have all this technology – and its security issues – in our own four walls."
Throughout this transition, IT security has always been a top priority for alfanar, van de Sandt adding that the company's cautious approach to streamline processes was hampered by authorisation issues. "Segregating duties was not straightforward," he says. "There's a tendency to ensure that employees stay within their functional responsibilities, and this in turn blocked a lot of processes. We went out of our way to minimise risk."
One of the most successful implementations alfanar deployed was SAP's Cloud for Customer (C4C) SaaS platform for sales and service. "We paired this solution with a mobility strategy which has been game-changing for us," van de Sandt says. Service technicians have since been equipped with iPads, which gives them on-the-go access to service orders on C4C, as well as other information from the system which can enhance service.
Although the changes have not come easily, van de Sandt now believes that staff have bought into the new ways of working that have emerged from technology enhancements. "The mentality is now generally much better," he says. "They are more in favour of following best practices and have become accustomed to new processes."
The standout benefit, however, has been the marked increase in the company's volume of targeted sales. This is the result of providing unique insights to the sales team that have given them a cutting edge. "Automating what was otherwise a challenging process has made a huge difference to us," van de Sandt says. The use of tablets has also improved the technicians' ability to input data, making processes more "seamless and efficient."
van de Sandt is unrelenting in his desire to push forward with technological innovation. "We're a risk-taking organisation in terms of technology," he says. "We've proven ourselves to be early adopters in a number of respects." However, he is conscious of the market's shortcomings in terms of his next big plans. "We'd like to introduce AI solutions, but the fact is that the region is full of salespeople with not enough expertise who are on the ground for these types of solutions. It makes it difficult when you're trying to build these types of capabilities."
Furthermore, the company is also keen to introduce additional safety measures for on-site workers. "Certain zones naturally carry a higher risk," van de Sandt says. "We want to introduce auto-alarming if workers enter particular areas." Automated factories may also be on the cards. "If we can develop our back end, this would carry huge potential."