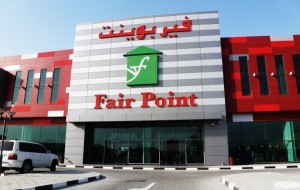 If there was ever an example of how a well-integrated ERP system could utterly change how a business operates, this would be it. Fair Point Furniture, an up-and-coming furniture retailer based in Sharjah, set up shop in May 2012, though its back-end IT system was hardly fit for purpose.
For one thing, for the first seven months of its existence, the company used different software applications for different divisions. This meant that there was no real-time information between divisions, reports could not be customised, and managing stocks and logistics was difficult.
"The point-of-sale guy would not know whether the inventory is there or not. People would see a chair they wanted, but then they'd have to just buy the one on display. And if we did have it, we wouldn't know where it is in the warehouse," says Mohamed Noaman, the recently appointed Head of IT at Fair Point Furniture.
Naturally, then, Fair Point began searching for a properly integrated ERP system that would give the company full visibility across its operations. Unfortunately, the company wasn't spoilt for choice when it looked at the market.
"We started to search around for an ERP system. You know the market here—there are two different ways, either Oracle or SAP, particularly if you're a big company," Noaman jokes.
Happily, however, Microsoft had just entered the ERP market with its own offering, Microsoft Dynamics, which includes a suite of various ERP functions. With a strong focus on SMBs, Microsoft's AX 2012 solution—a retail-oriented part of Dynamics—seemed to be the perfect fit for Fair Point.
"We found Microsoft and we preferred that for a number of reasons," Noaman explains. The biggest advantage was that it would mean Fair Point was running Microsoft solutions end-to-end, making the design and implementation of the system much easier. The other major advantage was that the project would be completed by Al-Futtaim Technologies, which provided Fair Point with a strong set of service-level agreements.
Al-Futtaim set about implementing the ERP system straight away, using the Sure Step methodology. The systems integrator was set to implement Dynamics AX 12 for Fair Point's finance management, supply chain management, and retail.
The pressure was on Al-Futtaim to make this implementation work, not only because Fair Point desperately needed to upgrade its systems if it wanted to make the right business decisions, but also because this was the first AX 2012 retail implementation in the world.
In terms of finance management, then, Al-Futtaim implemented the system with functions such as general ledger, cash and bank management, payable accounts, receivable accounts, fixed assets, budgeting and reports. With the supply chain management, Fair Point were given new capabilities such as procurement sourcing with workflow processes, sales and marketing for non-retail customers, inventory and warehouse management, product information management (so that all products could be properly categorised), and reports.
Perhaps most importantly, however, AX 12 was used to link the back-end with the point-of-sale (POS) machines on the shop floor. This meant that inventory could be viewed, in real time, on a POS machine, and it also meant that orders from the POS machines could be filled much more quickly. Promotions and sales could also be integrated much more easily, and a new system for returns and refunds could be managed much more easily.
"In AX, the retail and the back-office in the supply chain is connected. At the retail level, if a customer says he wants, say, 10 office chairs, you can check it and see if there's enough stock. You get two images of the shop and the warehouse and you can see both at the same time," says Noaman.
The system also allows Fair Point to analyse its customers' buying and spending habits—a functionality that the previous system lacked. This means that the company's buying team is better equipped to make buying decisions—Fair Point now knows exactly what its customers want. What's more, according to Noaman, when Fair Point begins to expand across the UAE, it's simply a question of purchasing more AX licences—the backbone of the system is already in place, meaning it's completely scalable.
The only bone of contention with this implementation comes with the end-users, who initially struggled with the new ERP system. Indeed, Fair Point has struggled with a high turnover of staff over the past year, making it difficult to train up the workforce as a whole. However, with the company now enjoying a welcome period of stability, the issues are being ironed out. What's more, Al-Futtaim has been on hand to offer training for Fair Point's employees, thanks largely to the impressive SLAs that were signed before the project began.
On the whole, however, Noaman believes that the implementation has had an extremely positive impact on Fair Point and its business.
"The owner's life is different now. Whenever he needs a report, he takes it in the right way, and he can see exactly what the customers need—he sees what's getting fast movement, or slow movement," he explains. "Right now, as an IT section, we are very happy."