Habtoor City is almost live. The Business Bay complex features a trio of five-star hotels, a showstopping aqua-theatre and tennis academy. Mahmoud Kamal, Chief Information Officer, Habtoor Hotels, was tasked with delivering a fresh and powerful infrastructure that could satisfy the needs of an expected 20,000 daily visitors.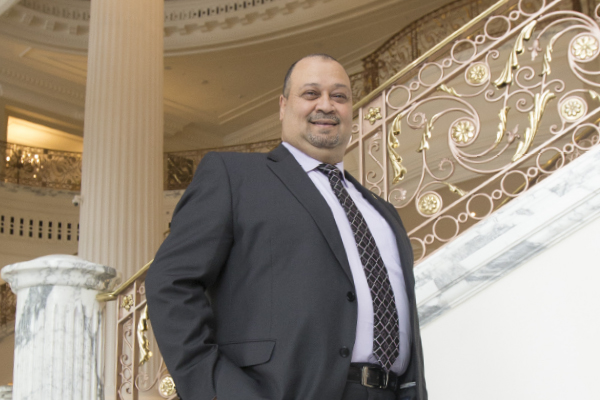 It's hard not to fall under the spell of the St. Regis Hotel lobby. Even those who are habitual recipients of five-star treatment in the UAE will be hard-pushed not to be charmed by the huge portraits, chandelier and marble staircase. It serves as a first taste of one of the latest additions to Dubai's roster of superb five-star hotels, and is the first of a trio that will soon form one of the most exciting property developments of 2016 – Habtoor City.
The complex – when completed – will consist of the three hotels, as well as a series of other exciting developments. While the St. Regis opened before Christmas 2015, the Westin – which is attached to its sister building – and the W Hotel are due to opened by the end of Q2 2016. Combined, the trio are expected to draw over 1,700 guests per day.
While the ceiling-high stone pillars of the St. Regis lobby may be the first thing that guests notice, Habtoor City's newly-established IT infrastructure provides a strong, invisible support of its own for the complex. Mahmoud Kamal, Habtoor Hotels' Cief Information Officer, has overseen a vast project to ensure that Habtoor City is able to meet the high standards of its guests, and simultaneously deliver a smooth experience across venues.
"The hospitality industry is demanding for a number of reasons, not least in terms of the technology it provides," Kamal says. "In their homes, hotel customers have widescreen TVs and high quality Internet – and they expect the same from a hotel. We have the tough task of exceeding that expectation, or at the very least, closing the gap."
In addition to Habtoor City's hotels, the complex is also due to contain a hugely ambitious 1,400-seat aqua-theatre, similar to the Dragone venues in Las Vegas and Macau, as well as a tennis academy, which is due for completion late 2017. Central to the 'City' meanwhile, will be a boulevard with restaurants, bars, shopping venues and a landscaped canal. The complex will also contain 1,700 luxury apartments – all of which are more than 20,000ft2, which Kamal describes as "mansions in the sky".
Accompanying this development is the demand for satisfying a broad range of clients. In addition to providing the standard home comforts of guests who stay for leisure purposes, Kamal is tasked with ensuring the Habtoor City complex will also translate to being a business-friendly environment. "It's imperative that we have the same meeting and IT services across the hotels," he says.
Meeting these high standards required a breadth of technology services to be delivered to a seamless standard. "First and foremost, we need high quality bandwidth for our Internet," Kamal says. "This is to power video conferencing, up-to-date IPTV services, CCTV and security systems, as well as a parking system that allows customers to locate their vehicle amongst thousands of others."
In order to ensure guest satisfaction in terms of the bandwidth that they could consume, Habtoor City would need effective gateways to accompany the high-speed Internet. "The network needs to differentiate between three or four rooms who may be downloading content, while other guests are using low-bandwidth chat services," Kamal says. "I've experienced problems before where guests complained because they received no Internet as all the bandwidth had been consumed."
In 2014, Kamal and his team began implementing the IT solutions that would be needed for the broad and ambitious project. His 12-strong team set about establishing a networking infrastructure that was "secure and compliant", and could segregate traffic from guests, the complex's CCTV cameras and administration staff.
The project began with the "challenging" design phase, in which Kamal worked closely with consultants to define a roadmap for the solutions. Striking the right balance between cost and quality was key, with Kamal taking great care in engaging operators, integrators and vendors to ensure the best possible value. "If you make the right choices, you could save half the cost, without sacrificing a project's quality," he says.
The security aspect would take on particular importance for the City, with a system that could track who enters and exits the complex a must. "This is important from a safety perspective, both for the complex and for those who are being tracked; in the case of an emergency we need to know who is in and who is out."
In terms of the networking hardware, Kamal opted for Cisco's access points and switches, as well as its internal voice communications system. Dell's virtualised servers and HP's PCs were also enlisted, while the Simphony point of sale solution was also introduced. In terms of guest-facing technology, Kamal opted to purchase Samsung TVs for hotel rooms.
Naturally, the process of bringing all these technologies and vendors under one umbrella had the potential to pose a problem for Kamal, and this complexity, in line with added pressure from key stakeholders, proved a test of timeliness.
"The strict enforcement of target dates meant that a lot of people pushed for faster delivery, meaning things were not mature," Kamal says. "Vendors need to meet their milestones in terms of infrastructure, active components and educating end-users, and these aspects are all inter-dependent. At the same time, you need to complete one stage before another."
In addition, Starwood Hotels – managers of the development – expected Kamal to comply with USA technology standards, which were "not appropriate" for the Middle East. "Their standards did not reflect the levels of local support," he says. "I had to manage expectations to ensure that realistic targets could be decided."
Throughout the process of the implementation, Kamal took a hands-on approach in terms of supervising deliverables. "I was keen to check if vendors were delivering what we had asked, and if they were meeting or exceeding expectations," he says.
With the opening dates for two of Habtoor City's hotels on the horizon, Kamal is confident that work he and his team have carried out will be able to deliver a first-class tech experience for complex guests. The technology infrastructure is now ready to serve guests' high expectations. "They'll get the Habtoorian experience," he says. "That means that everything they need will be at their disposal. Ultimately we have to ensure that we deliver user satisfaction, in particular through our Internet and IPTV services."
Kamal also believes that delivering scalability, and the ability to expand services are two areas in which Habtoor City will be well-equipped. "Services need to be able to fulfil customer demand when it comes," he says. "Companies like Google and Facebook have built their reputation on the ability to deal with enormous volumes of search queries and subscribers, and that's a blueprint we want to follow. With 1,700 guests, who have two or three devices each, we'll need to be able to accommodate thousands of concurrent connections.
"We need to be ready to deal with that pressure, and we are."