In the hospitality industry, service is everything. When the quality of Internet wasn't up to the Amwaj Rotana's high standards, IT Director Rabih Merhy sought a new solution that could keep business and leisure guests connected throughout the facility.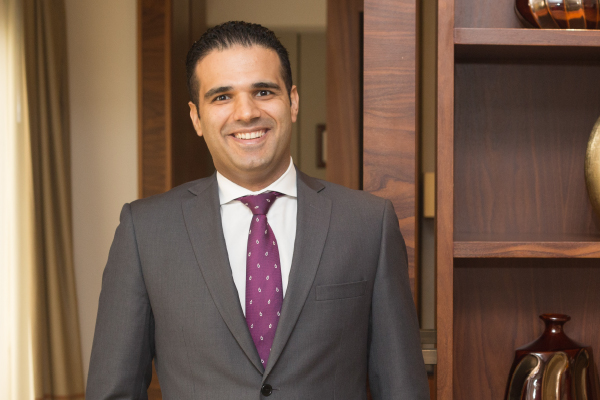 Sitting on the southern end of Jumeirah Beach Residence's 'The Walk', the Amwaj Rotana sits in one of the most popular districts of the United Arab Emirates. Restaurants, shops and The Beach Mall adorn the strip, while the Arabian Gulf sits a stone's throw away from the hotel. With 301 rooms and a host of facilities, including three restaurant outlets, a spa and pool, Amwaj sits as one of the top five-star resorts in Dubai, and has created a platform for itself to expand beyond the Middle East and Africa region.
The hotel receives a mix of leisure travellers and business guests, including a large number of GCC nationals. One thing unites them – their need for high-quality Internet. "For many people, it is the most important thing when choosing a hotel," Rabih Merhy, Director of IT, Amwaj Rotana, says. "For others it's a factor, but for everyone, it's a means of communicating with friends and relatives elsewhere. The guests feel the benefits of high quality Internet. In a service-oriented industry like ours, every minute counts and delays in dealing with any mishaps that inconvenience guests can cause a lot of grief on their part."
Over the course of the last two years, the Hotel had been facing problems as a result of its lower quality Internet services. "We had received a number of complaints from guests, which is never good news," he says. "This had a negative impact on market metrics, and ultimately affects financial results as well." Guests had experienced a loss of connection on far too many occasions, and ultimately, the Internet infrastructure needed to be redesigned to keep Amwaj competitive in the space.
In November 2014, Merhy and his IT team conducted a test on the guest's usage of devices within the Hotel, and found that 71 percent of double occupied rooms had two or more devices requiring an Internet connection. The high demands of guests holding business meetings in conference rooms, often requiring video conferencing services, placed additional demand on the network, as did guests using VPNs to access foreign sites. In addition, considering that those with two or more devices would be running four concurrent Internet sessions on average, a change was needed.
The hotel had been using Aruba 'n' standard wireless technology in its rooms and public area since 2012. The previous network consisted of fewer access points (APs) which consisted of two categories – AP-92 and AP-93. The vendor's prior relationship with Amwaj served it well in winning an upgrade contract. "We considered other vendors like Cisco and Ruckus, but we decided to continue our relationship with Aruba," Merhy says.
The main obstacles that Merhy and his team would have to overcome in the implementation were the issues of effective testing and potential downtime. With occupancy levels high, the situation had to be carefully managed so that guests' Internet was interrupted. Merhy ensured that tests were conducted when rooms did become vacant, and although this provided delays, he draws satisfaction from ensuring services remained constant. "We monitored the situation for almost two weeks, and that convinced us that the project could go ahead successfully," he says.
With the help of Aruba, Merhy opted for – in addition to the current 243-AP infrastructure – 96 AP-205's, four, more powerful, AP-215's and a 7210 wireless controller. The AP-215's were used for public spaces within the hotel – including the lobby, pool and gym – and the AP-205's for rooms.
The execution of the project itself was relatively swift, beginning in May 2015, with the new Wi-Fi solutions fully implemented in the second half of June. The benefits of the project have been easy to quantify – facilitating the project's initial justification – with a survey in user satisfaction revealing a 15 percent increase. The rate at which connections would drop off has decreased, while there has been a vast increase in Internet speed. The controller also allows APs to be managed centrally, providing ease of use for the IT department. "To have recorded this in such a short space of time since the project began equals great success for us," Merhy says. Meanwhile, Internet coverage throughout the hotel has increased from a rate of 75 to 92 percent, covering all areas that guests use, except stairways and staff service areas. This increase has help reduce frustration among guests, and means that quieter spots of the hotel are now equipped with a quality connection.
As well as offering complimentary Wi-Fi in the hotel lobby and in its restaurants and facilities, Amwaj has also seen an increase in its range of paid rates for higher quality Internet service. "We have hourly, daily, weekly and monthly packages," Merhy says. "It's early days, but this is already producing tangible ROI which is sure to increase; the apps that are most commonly used are social media ones like Facebook, WhatsApp and Skype, and guests are willing to pay for a higher quality service, especially for the latter." Network access is also segmented between guests and Amwaj IT administrators for effective security.
The strong enhancements to Amwaj's network infrastructure have laid the base for the hotel to move forward with further IT strengthening. Merhy plans to add more AP-215 access points to the hotel's arsenal, and an additional controller for greater redundancy. He also has big plans which could even more interactive enhancements to the IT and audiovisual offerings. "We're investigating the prospect of Internet-enabled TVs," he says.
Merhy was more than satisfied with the level of support he received from Aruba. "They provided us the APs for the testing phase, and gave us support on price," he says. "They treated us more like VIPs than customers."